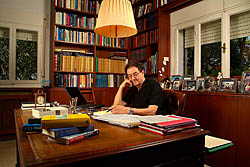 For his original and pioneering contribution to the field of polymer processing, transforming it into a new and important engineering discipline, and for his academic leadership as a pre-eminent mentor and researcher in chemical engineering in Israel.
A distinguished Research Professor at the Chemical Engineering Department of The Technion – Israel Institute of Technology, and serves as Chairman of the S. Neaman Institute for Advanced Studies in Science and Technology. He received his B.Sc and M.Sc degrees in chemical engineering from the Technion and his doctorate, also in chemical engineering, from the Stevens Institute of Technology, New Jersey. He served as Dean of the Chemical Engineering Faculty, Director of the S.Neaman Institute, and President of The Technion from 1990 to 1998.
Prof. Tadmor's main research interest is polymer and plastics engineering and processing. His important contribution is in establishing scientific foundations for this field and the quantitative-mathematical modeling of the processes that turn raw materials into functional finished products. In doing so he was instrumental in converting an empirical technology into a solid and well-defined engineering discipline. In addition to publishing several books and many papers in this field he was also granted many patents while working as a research engineer in Israel and abroad.
In addition he is active in public policy research in science and technology, in engineering education, as well as the history, organization and management of research universities.
He is an elected member of the Israel Academy of Sciences and the USA National Academy of Engineering. He was awarded an Honorary Doctorate in Industrial Chemistry from the University of Bologna during the celebrations of its 900th anniversary, and received numerous awards including the Society of Plastics Engineers of the USA "Extrusion Division Distinguished Service Award" and "Outstanding Achievement Award in Plastics Engineering and Technology". He was inducted into the Polymer Processing Hall of Fame and received the Rotary Prize for "Outstanding Contributions to Higher Education in Israel".