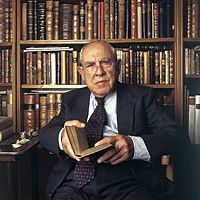 Prof. Benayahu founded in the 1950's, together with President Yitzhak Ben-Zvi, the Institute for the Research of Jewish Communities in the Middle East (Ben-Zvi Institute). He was awarded the EMET Prize for his unique and in-depth contribution to the study of Jewish communities, Hebrew imprints, Rabbinic literature and Jewish wisdom, and ancient manuscripts, as well as the outstanding management of important scientific projects.
Professor Meir Benayahu was born in Jerusalem in 1926. His father was Rav Yitzhak Nissim, who would later become the Rishon L'tzion and Chief Rabbi of Israel.
Benayahu studied at the Doresh Tzion school and at the Mizrachi Teachers' Seminary. At the age of 17, he began to author articles and research in the field of Jewish history. At the recommendation of Professor Simcha Asaf, he was accepted to study at the Hebrew University while still a student at the Teachers' Seminary.
From a young age, Benayahu became known as a great expert in the reading of ancient manuscripts, deciphering their content, and identifying their authorship and time periods. His expertise in the field of Hebrew paleography redeemed thousands of manuscripts, letters and certificates from all over the world from oblivion, documents that would become an unceasing source for Jewish historical research of the Mediterranean basin, a field that had previously been neglected.
In the 1950's he founded, together with President Yitzhak Ben-Zvi, the Institute for the Research of Jewish Communities in the Middle East (Ben-Zvi Institute). In 1965, he received his doctorate from the Hebrew University for his study entitled, "A History of HaAri," with a grade of "Excellent." In the 1970's, he was invited to become a professor of Jewish history at Tel-Aviv University. From 1985 he has served as the director of the Research Institute at Yad HaRav Nissim.
Benayahu's studies demonstrate the integration of traditional Torah wisdom with modern scholarship. In the 32 books and hundreds of research studies that he has authored, and the academic journals that he has edited (Yerushalayim, Sfoonot, and Asufot), Benayahu broadened the boundaries of historical research in areas that had never been considered before, thereby enabling new horizons to be opened. He greatly enriched the research of the Jewish communities of Italy, Greece, Turkey, Israel, London, Amsterdam, Morocco and Egypt. His research has become a foundation for Jewish historical scholarship in these areas, and there is not a researcher in the field who does not utilize his findings.
Professor Benayahu encourages, guides and trains young researchers to conquer new areas of Jewish historical scholarship, generously offering them a rich source of references and resources in order to do so.