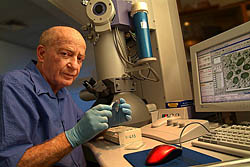 For his groundbreaking studies in cell signaling, which provided the framework for understanding the molecular basis of how signal flows through the G proteins switch. His discoveries yielded major insights into the action of cell receptors and their ability to serve as targets for therapeutic drugs.
Professor Selinger was born in Vilnius, Lithuania, in 1934, and immigrated to Palestine with his parents in 1936.
Already as a medical student he sought to become a scientist in the field of Biochemistry. He was awarded a research fellowship and in 1959 obtained an MSc degree in Biochemistry; three years later he was awarded an MD degree. Upon graduating he started post doctoral training in membrane biochemistry at the University of Minnesota, USA.
In 1965 he returned to the department of Biological Chemistry at the Hebrew University. On the basis of his research achievements he rapidly advanced to the position of senior lecturer, and later associate professor and full professor. He also served as chairman of the Biochemistry Studies Section and Head of the Department of Biological Chemistry.
Outside the Hebrew University he was deputy of Biological and Medical research in the National Council for Research and Development at the prime-minister's office and member of the steering committee of the Israeli-German cooperative research in Biotechnology.
For many years he served as a medical doctor in the Israeli army and wrote a training manual for treatment of patients affected by chemical warfare.
Professor Selinger is recognized worldwide for his discovery of the regulatory GTPase cycle as the molecular basis for signaling through the G-protein switch. His ground-breaking studies provided the framework for understanding the nature, action mechanism and means of regulation of signal flow through the diverse family of guanine nucleotide binding proteins (G-proteins ). He discovered how Cholera Toxin produces its toxic effects and unraveled the mechanism of action of the β-adrenergic receptor. The latter is a prototype of a large family of receptors (composed of 1000 members), for hormones, neurotransmitters and sensory stimuli of light, smell and taste. All of these receptors act by the same mechanism that Dr Selinger had first discovered for the β-adrenergic receptor. The G-proteins family of molecular switches plays a crucial role in almost all normal cellular activities. Impairment of their normal action is implicated in a large number of human diseases ranging from Cholera to Cancer.
Professor Selinger was awarded the Landau prize for Research, the Rothschild Prize in Life Sciences and the Teva Prize in cellular signaling.