2007 EMET Prize Laureate – Exact Sciences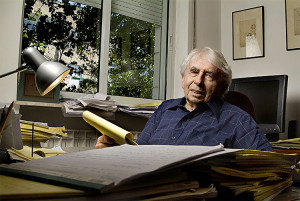 Prof. Shmuel Agmon is awarded the EMET Prize for paving new paths in the study of partial-elliptical differential equations and their problematic language and for advancing the knowledge in the field, as well as his essential contribution to the development of the Spectral Theory and the Distribution Theory of Schroedinger Operators.
Prof. Shmuel Agmon was born in Tel-Aviv in 1922. He spent the first years of his life in the Arab town of Nazareth, where his mother was a dentist and his father – author, critic and public figure – dedicated himself to his writing. The family moved to Jerusalem in the mid-1920's. He attended the Hebrew Gymnasium and was member of the Mahanot Haolim youth movement. Upon completing his high-school studies he joined the pioneer training ("hachshara") in Kibbutz Na'an.
In 1940 he returned to Jerusalem and started studying mathematics at the Hebrew University. Among his teachers were Prof. Michael Fekete, Prof. Abraham Halevi Fraenkel, Prof. Benjamin Amira and Prof. Yaakov Levitzki. His studies were interrupted by World War 2 and he joined the British Army. After four years of military service in Europe, Palestine and Cyprus he completed his degree, and then went to France for further studies. In 1949 he was awarded a doctorate from the Sorbonne University in Paris. He taught at the Rice University in Texas for three years and in 1952 returned to the Hebrew University, where he was made senior lecturer. In 1959 he became full professor and in 1964 he was elected as member of The Israel Academy of Sciences and Humanities.
Over the years he was Visiting Professor in many universities around the world. His scientific work has won him the Weizmann Prize, the Rothschild Prize and the Israel Prize in mathematics. Nantes University in France has awarded him an honorary doctorate.