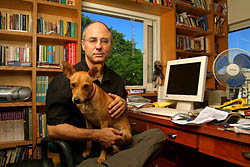 For the many plays he directed and wrote, for his contribution to the Israeli Theater with his special directing style developed through his artistic work, for the many years of teaching the art of acting, for the artistic tutoring of tens of actors and for presenting their talent to the Israeli theaters.
Michael Gurevich was born in Israel in 1951. The stage has been a part of his life since childhood. He accompanied his mother, the dancer Hilda Kastan – one of Israel's dance pioneers – to her performances, and his father, the painter and set-designer Anatol Gurevich, to shows at the Marionette Theater. Michael Gurevich's first pieces were produced with the small puppet theater and the magic lantern that his father made for him.
Following his military service with the Northern Command troupe, he began his studies at Nissan Nativ's Acting Studio. On completion of his studies he began teaching at the Studio and directed his first shows there. In 1980 he met Nissim Aloni, who became his teacher and mentor in the world of theater. A year later Michael Gurevich directed Accidental Death of an Anarchist at the Habima Theater. Following his success with this production he was appointed Habima's theater resident director. At the same time he continued his studies, taught and created his own pieces, including All My Sons Except for Naomi (starring Daniel Lafin and Yoni Lahav), which became a huge success. Over the years he has written and directed over 50 plays.
After six years at Habima Theater he left to direct Macbeth for the Cameri Theater. Since then he has been directing in all theaters in Israel. In 1999 he directed his play Fleeting Shadow at the Jerusalem Khan Theater, a silent play, and a year later he was appointed artistic director of the theater – a position he still holds today. Along with a classical repertoire, he carefully incorporates a choice of original pieces, written during rehearsals. Most of the theaters' actors are his former students.
Among the plays he directed are Rickey's Kindergarten, The Labour of Life, Krum, The Twelfth Night, A Midsummer's Night Dream, Le Malade imaginaire, L'Avare, Fighting for Home etc.