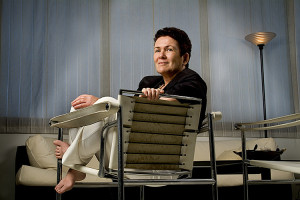 The Professor architect Nitza Metzger Szmuk is awarded the EMET Prize for her achievements and her outstanding contribution to local culture in the promotion of site and building conservation, for raising public awareness to the importance and the value of the architectural heritage in "The White City" of Tel Aviv and for promoting Israel's position and prestige worldwide.
The Professor architect Nitza Metzger Szmuk was born in Tel Aviv. She graduated as an architect from theUniversityofFlorence in 1978. Until 1989 she focused on conservation of historical buildings and on planning public institutions in Florence. Upon her return to Israelshe carried out a survey of the International Style buildings in the city for the Tel Aviv Foundation. The survey served as a basis for the city's conservation plan and for her first book, Dwelling on the Dunes, which was published in Hebrew, English and French.
In 1991 she set up the conservation team at the Tel Aviv-Yafo Municipality and headed it until 2002. During these years she strove to have the list of buildings intended for conservation approved, including 1600 houses, devised guidelines for the treatment of these buildings and supervised the restoration of 300 of them. Thanks to her efforts Tel Aviv became a paragon of conservation in Israel . In 2001 she initiated, wrote and edited the candidacy report of Tel Aviv "The White City" for UNESCO, and the city was nominated a World Cultural Heritage Site in 2003.
She actively fought to raise awareness for the conservation of "The White City" and its values, participated in the promotion of the International Bauhaus Conference that took place in the city in 1994. She was also curator of the Tel Aviv's Modern Movement exhibition, shown at the Tel Aviv Museum and later in Canadaand Switzerland . In 2004 the report was published as the catalogue of the Tel Aviv's Modern Movement exhibition.
In 2005 she joined the Technion as a faculty member and in 2006 she was made associate professor and head of the M.Sc. course in architecture with specialization in conservation.
Her work won her the Rokach Prize for Architecture and a certificate of honor for her professional contribution to the field of site conservation, awarded by the Association of Architects and Town Planners.
Since 2003 she owns an architectural office specializing in the conservation of buildings and sites.