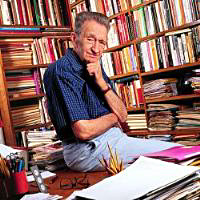 The Emet Prize is awarded to Prof. Michael Confino for his contribution to the research of Russian history, which has earned him renown as an eminent historians worldwide, and for his decisive contribution to both empirical research and to a broad, in-depth and original concept of historical development and the manner in which historians relate to it.
Prof. Michael Confino Prof. Michael Confino was born in Bulgaria in 1926. He immigrated to Israel in 1948; served as an envoy for immigration affairs in North Africa (1951-1953) and in the Soviet Union (1960).
Prof. Confino studied humanities and social sciences at the University of Sofia, the Hebrew University in Jerusalem, the Ecole des Hautes Etudes en Sciences Sociales in Paris, and the Sorbonne, where he received his doctorate summa cun laude, in 1959, for a dissertation on the agrarian history of Russia in the 18th century.
Prof. Confino joined the academic staff of the Hebrew University in 1959 and was the founder and first chairman of the Department of Russian Studies (1964-1969). In 1970, he joined Tel Aviv University. The following year he founded the Russian and East European Research Center and served as its director through 1977. From 1980 to 1995 he held the Samuel Rubin Chair of Russian and East European History and Civilization.
Prof. Confino's areas of specialization are Russian and comparative history, and his research work encompasses the agrarian question in Europe, the structure of societies under the Old Regime, and intellectual history. His contribution to scholarship includes a series of innovative historical research methods and original approaches to major historiographical issues. He discovered and published previously-unknown documents of prominent figures in the revolutionary movement, including Natalie Herzen, Mikhail Bakunin, Sergei Nechaev, and Peter Kropotkin.
Prof. Confino has served as Visiting Professor at the University of Chicago, Harvard, Stanford, Duke University and the Ecole des Hautes Etudes en Sciences Sociales, and was a Fellow at major research centers in Europe and the United States. He is a member of the Israel Academy of Sciences and Humanities and an Israel Prize laureate for history.