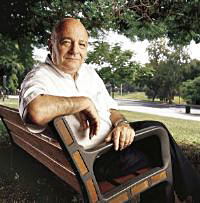 The Emet Prize is awarded to Prof. Ilan Chet for being a pioneer in the development and progress of the biological control of plant diseases using environmentally friendly microorganisms, a field of extreme importance whose goal is to protect plants and produce while preventing the contamination of the environment by toxic pesticides.
Prof. Ilan Chet was born in Haifa in 1939. He completed his doctorate in microbiology at the Faculty of Agriculture of the Hebrew University. His research has focused on the fundamental, applied and biotechnological aspects of the biological control of plant diseases using environmentally friendly microorganisms. He has published over 340 articles in international science journals, has edited three books in his fields of research and has registered 30 patents. He has instructed some 80 M.Sc. and doctoral students.
Between 1983 and 1986, Prof. Chet was the founder and first director of the Otto Warburg Minerva Center for Biotechnology in Agriculture. For the three years thereafter served as Dean of the Faculty of Agriculture at Hebrew University. For 10 years he was the Vice President and Chairman of the R&D Authority at Hebrew University of Jerusalem. Since December 2001, he has been the president of the Weizmann Institute of Science in Rehovot.
Over the course of his years spent in research, Prof. Chet has been a visiting professor at the Harvard, Cornell and Rutgers in the United States, at Gattingen and Lund Universities in Europe, as a senior scientist at DuPont Chemicals in the U.S., and a member of the Scientific Advisory Committee for the European Union and NATO. Since 1998, he has been a member of the Israeli National Academy of Sciences and Humanities.
In 1991, Prof. Chet was awarded an honorary doctorate by the University of Lund in Sweden. His research has earned him many awards, including the Rothschild Prize in Agriculture in 1990, the Max Planck Award for Distinguished Research in 1994, the Japanese Arima Prize for Applied Microbiology in 1996, the Israel Prize in 1996 and the Wolf Prize in 1998.