2008 EMET Prize Laureate – Social Sciences: Education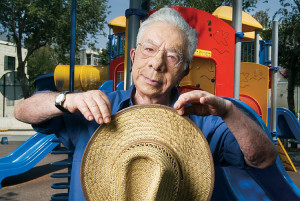 Prof. Moshe Dov Caspi, is awarded the EMET Prize for his educational theories and projects. A man of vision and practice, a pioneer and path-finder in the field of education in Israel, By implementing his theories he introduced creativity as a concept that may be translated into action. The school he founded, Hanisui, was pioneering and ground-breaking for all democratic, humanistic and open schools. His work introduced models of combined and interdisciplinary learning to the education system.
Prof. Moshe Dov Caspi was born in Germany in 1929 and immigrated to Palestine at the age of four. He began his studies at the Hebrew University in 1949, where he completed his B.A. in sociology, education and psychology, and his M.A. in extended education and philosophy. In 1961 he completed his Ph.D. in educational psychology at the University of London, and returned to teach at the Hebrew University's School of Education.
In his work he specialized in the theory and research of education, sociology, psychology, philosophy and trans-disciplinary approaches and interlaced them to create a deep and extensive educational approach called Self-Remaking. His claim is that education is a complex practical-theoretical system of actions and ideas, in which all fields of action, experience and thought are combined. In the field of thought-development he proposed a multi-dimensional psycho-educational model, placing special emphasis on creativeness (as a personal attitude) and the creativity process (generating original and valuable products that promote creativity). His professional achievements are evident in innovative ways of establishing educational institutions and projects, for the evaluation of the educational venture and its products while weighing all the dimensions in which man acts and develops – the personal and social dimension, the practical and the aesthetic, the critical and the creative, the intellectual and the emotional etc.
He was among the founders of the School of Senior Educators, the inter-university committee for the promotion of education, consultant to the Teachers' Association on policy planning. He is the founder of the Hanisui School in Jerusalem and the Hofen Institute, which trains educators for experimental schools. Over the years he was a visiting professor in many universities and served as educational, academic and scientific adviser to various institutions and institutes. His prominent books are Thinking – A Psycho Educational Approach and The Future of Education (analyzing the individual's vision). The Long Way from Education to Self-Remaking, which summarizes the concept of Self-Remaking, is about to be published in English. His work won him many prizes, including the Jerusalem Prize for Education and a Prize by the Atari Company.