2007 EMET Prize Laureate – Life Sciences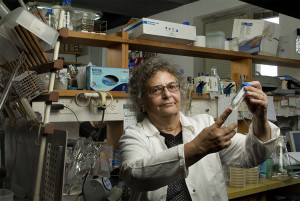 Prof. Eliora Ron is awarded the EMET Prize for her major scientific contribution to genomics and for understanding the regulatory aspects of the bacterial reaction to environmental pressure, as well as her academic and educational leadership in strengthening the position of microbiology in Israel and Europe.
Prof. Eliora Ron received her Msc degree in microbiology from the Hebrew University. She was awarded her PhD at Harvard University. Upon her return to Israel she was among the founders of the Department of Microbiology in the Faculty of Life Sciences at the Tel-Aviv University. She specialized in the molecular genetics of bacteria and was one of the pioneers in the field of molecular biology in Israel. Over the years she studied the response of bacteria to environmental changes – the presence of pollutants, temperature changes and contact with the host. The study of bacteria's response to temperature changes led to the understanding of global regulatory networks, which regulate the cellular reaction to heat shock. Her studies of the E. coli bacteria that cause systemic infections have greatly contributed to the understanding of the molecular and genomic aspects of these bacteria, which are one of the main causes of death in the world today.
She served as President of the Israel Society for Microbiology and as Dean of the Faculty of Life Sciences at the Tel-Aviv University. She holds the Morris and Manya Leigh Chair and is President of Ilanit (FISEB) – Federation of the Israel Societies for Experimental Biology. She is currently President of the Federation of European Microbiological Societies (FEMS), in which fifty societies are members. With these activities she has contributed to the promotion of microbiology in Israel and abroad and the promotion of Israel as one of the leaders in the field.
Her work and her international achievements have won her prizes and awards, among them the Sarov Prize of the Israel Society for Microbiology. The President of the State of Israel has awarded her the Council for a Beautiful Israel Prize for the restoration of the refineries' beach following a large oil spill. She is an elected member of the academy of the American Society for Microbiology and of the World Academy of Art and Science.