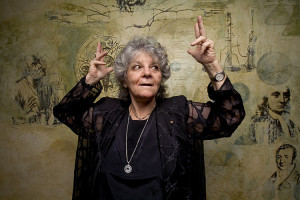 Professor Ada Yonath is awarded the EMET Prize for her unique pioneering studies aimed at determining the ribosome structure, studies which led to new insights concerning the function of a complex biological system, for focusing on the mechanisms exploited by antibiotics in paralyzing the ribosome, and for the inspired development of new antibiotic drugs.
Professor Ada Yonath was born inJerusalem. She was bereaved of her father while still a pupil at primary school. Despite having to help support the family she continued with her studies. Upon completing her military service she began her B.A. studies in chemistry at theHebrew Universityin Jerusalem. She then gained an M.A. in biophysics. She completed her doctoral thesis with distinction at the Weizmann Institute of Science. She later specialized abroad in Biological Crystallography, and on her return to Israelshe founded the first laboratory in this field.
She has been a professor at the Weizmann Institute since 1988, holding the Kimmel chair. She has been heading the Kimmelman Center for Biomolecular Structure and Assembly since 1989. Between 1986 and 2004, alongside her work at the Institute, she served as head of the research unit of the Max Planck Institute in Hamburg, and in the years 1988-2004 she ran the Mazar Center of Structural Biology. She was also head of the Department of Structural Chemistry and later Structural Biology at the Weizmann Institute, and elected a member of the Council for Higher Education.
For 25 years she has been studying the processes related to the translation of the genetic code into proteins. Her unique studies made it possible to determine the detailed three-dimensional structure of the ribosome, the organelle that functions as the cellular proteins' manufacturing nursery. She focuses on finding ways to improve antibiotics that paralyze the ribosome, and the results of the research done in this field have won her reputation among international pharmaceutical companies. She is a member of national and international committees on super-accelerators, and advisor to the U.S.government on the founding and running of third generation synchrotrons. She advises the Finnish government on matters related to medical biochemistry. She is a member of various academies and organizations, among them: The Israel Academy of Sciences and the US National Academy.
Her work has won her medals, decorations, commendations and many awards, among them the Rothshchild Foundation Award and the Israel Prize.