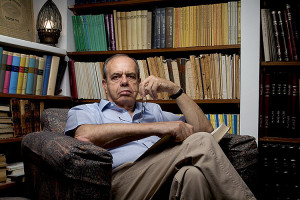 Professor Yaakov Sussmann is awarded the EMET Prize for his inspirational and multifaceted contribution to the study of Talmudic literature, and for being a lodestone for scholars of the Talmud and the rabbinical literature in Israel and abroad.
Professor Yaakov Sussmann was born in Budapest, Hungary, in 1931 to a family of rabbis and Jewish scholars. His paternal grandfather was the chief rabbi of Budapest, and his maternal grandfather was the grandson of Chatam Sofer. With the German invasion of Hungary in 1944 his family fled to Switzerland via Bergen-Belsen on the Kastner Train. He continued his studies there, attending religious yeshivas. In 1949 he immigrated to Israel and studied at the Hebron Yeshiva until he changed the course of his life. He taught at a primary school, and upon completion of his matriculation he began as a student of Talmud and Jewish History at the Hebrew University. Both his B.A. and M.A. degrees were awarded with distinction. The title of his doctoral thesis was Babylonian Sugiyot to the Orders Zera'im and Tohorot. For many years he taught at the Department of Talmud and served as head of the Department, and for three years he was the head of the Institute of Jewish Studies.
He specialized in the study of the Babylonian Talmud, the Jerusalem Talmud and the literature of the Midrashim. In his studies he elucidated elementary questions regarding the form of the Jerusalem Talmud, its various metamorphoses, its creation, scope and delivery.
Over the years he published a great variety of researches and articles, among them articles dealing with fascinating discoveries in the field of Hazal scholarship: a mosaic inscription from the ancient synagogue in Rechov in the Beit She'an Valley; a halachic text from the library of the Judean Desert Sect as well as the Sefer Yerushalmi, which is comprised of excerpts discovered in European libraries. He recently published an extensive essay titled "Oral Law -As It Is", in which he debates the issue of literacy in the early Hazal scholarship.
He is a member of the Academy of the Hebrew Language and a member of various scientific councils and editorial boards. He was also guest professor at different universities and research institutes around the world. In 1997 he was awarded the Israel Prize for research of the Talmud.