2008 EMET Prize Laureate – Humanities: Middle Eastern studies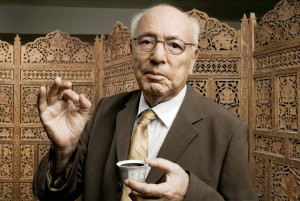 Prof. Sasson Somekh is awarded the EMET Prize for his valuable contribution to the interpretation and understanding of modern Arabic literature and for fostering cultural ties between the Israeli society and the Arabic-speaking world. He is a scholar in the field of Arabic literature and translator of poetry.
Prof. Sasson Somekh was born in Baghdad, Iraq, in 1933. From his youth he showed an interest in literature and started writing poetry. In 1951 he immigrated to Israel during Operation Ezra and Nehemiah. He earned his B.A. in Hebrew Language and Jewish History from the Tel-Aviv University, and completed his M.A. studies in Hebrew Language and Semitic Philology at the Hebrew University. Between 1962 and 1965 he was scientific secretary at the Academy of the Hebrew Language in Jerusalem. In 1968 he received his Ph.D. from Oxford University for his study of the works of the Egyptian author Naguib Mahfouz. Upon his return to Israel he joined the faculty at the Tel- Aviv University and held the Halmos Chair of Arab Literature. He was head of the Department of Arabic Language and Literature for twelve years. Over the years he was a visiting professor at major universities abroad. For three years he headed the Israeli Academic Centre in Cairo. He retired in 2001, and has since continued his academic and literary activities. The first volume of his autobiography, Baghdad, Yesterday, was published in 2004, and has since been translated into English, Arabic and Turkish, as well as other languages. A second volume, Call It Dreamig: 1951-2000, appeared in the summer of 2008.
Many of his studies focused on the works of two of Egypt's most prominent storytellers of the 20th Century, Naguib Mahfouz (Nobel laureate) and Yusuf Idris. Both have asserted that his work offers the best interpretation of their writings. He has also dedicated himself to translating modern Arabic poetry into Hebrew and has published four anthologies of modern Arabic poetry in Hebrew.
His work won him the Arberry Prize for the study of Arabic literature, awarded by Pembroke College, Cambridge (1982) and the Israel Prize in Oriental Studies (2005).