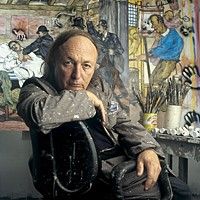 The EMET prize is awarded to painter Yair Garbuz, a creative and influential artist and one of the greatest visual troubadours of Israeli art. His unique style has had an immense influence, and Garboz has made a marked contribution in this field.
Yair Garbuz was born in Givataim in 1945.From 1962-1967, while a member of Kibbutz Kfar Hachoresh, he studied painting under Rafi Lavie, whom he considered as his main mentor. He also studied under Moshe Propes and Yehiel Kriza at the Avni Institute in Tel Aviv.
Garbuz began to exhibit his paintings in 1967. Since then, his works have been featured in dozens of one-man shows and group exhibitions in Israel and around the world, often appearing in the periphery – at kibbutzim and cultural centers. His paintings are featured in important private and public collections in Israel and abroad.
Garbuz also teaches painting. Since 1973, he has taught at Hamidrasha Art School, which he has headed since 1997. He has also taught at the Avni Institute, at Tel-Hai College, and at the Bezalel Academy of Art in Jerusalem. He lectures on art in many classes around Israel and takes part in seminars at various cultural institutions.
Among his many pursuits, he writes about art and is an editor of the satirical Davar Aher supplement (first appearing in the newspaper Davar, and later in Yediot Ahronot), an editor of the "Intimate Report" television program on culture, and edits and presents programs and columns on culture and society – on radio, television, and the press, including a personal editorial he delivers on the Tik Tikshoret program on Israel Educational Television. He is represented by the Gordon Gallery.