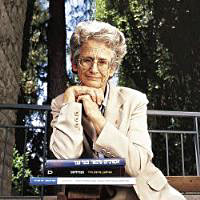 The Emet Prize is awarded to Prof. Ruth Gavison, one of Israel's eminent thinkers in the field of public law in Israel and in legal philosophy, for her academic and public activities in promoting democracy and establishing human rights and for her great contribution to the prestige of the rule of law in Israel.
Prof. Ruth Gavison was born in Jerusalem in 1945. She studied law, economics and philosophy at Hebrew University in Jerusalem and completed her LLM with special distinction. In 1975 she completed her doctorate in legal philosophy at Oxford University. Since 1969, she has been teaching at Hebrew University Faculty of Law, since 1984 she has been professor of the Haim Cohn Chair for Human Rights and since 1990 she has been a full professor. She has also served as a visiting professor at Yale Law School and at USC Law School and is a Fellow at the Center for Human Values at Princeton University.
For many years Prof. Gavison chaired the Association for Citizens Rights in Israel, and was the association's president for three years. She has also chaired the academic committee of the Minerva Center for Human Rights. Today, she is a member of the International Commission of Jurists, Israel Association for Parliamentarism, Mishkenot Shaananim's academic committee and president of the Yahad Council. She has served as a senior colleague of the Israel Democracy Institute, as a member of the Jerusalem Institute for Israel Research and has participated on various public committees, including the Kahan Commission on Privacy, the Klugman Committee on the Privacy of Information in Governmental Databanks, the Shamgar Committee on the Appointment of the Attorney-General and Related Issues, the Zadok Committee for Press Laws and the Committee for Secular-Religious Relations in Israel.
Prof. Gavison has published many books and articles. Since 1982, she has appeared frequently in the media and at public debates on law, human rights and Israeli society.
Her work over the years has earned her many awards, including the Zeltner Prize for Legal Research, the Avi Chai prize (jointly with Rabbi Ya'acov Meidan) for the new social covenant between the observant and the secular, the Movement for Tolerance award (jointly with Ya'acov Meidan) and the Jerusalem Tolerance Prize.