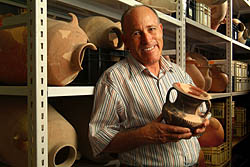 For his contributions in the field of archaeological research, especially in Jerusalem and the Judaean Shephella: the discovery and study of the hideaway caves from the days of Bar Kochba, the excavation of the ancient towns of Maresha and Beth Guvrin. For his work as district archaeologist for Jerusalem and the Judaea in the Department of Antiquities and for his approach which views archaeology as an academic, public and educational mission.
Professor Kloner was born in Palestine in 1940. Since his adolescence, due to the influence of his teachers at the Tichon Hadash (New High School) in Tel-Aviv, and as a member and guide in the Hashomer Hatzair youth movement, he developed a keen interest in Israeli geography and the Bible. He took part in excursions and volunteered to work on archaeological excavations.
After serving in the IDF – with the Nahal Brigade and the Paratroops – he studied at the Hebrew University, where he received his PhD. During his years of study he participated in many excavations and at the same time acted as tour-guide and as teacher in tour-guide training school and in the Sde Boker Field School.
Between 1971 and 1989 he was district archaeologist for Jerusalem and Judea at the Department of Antiquities. During this period he conducted excavations in the ancient synagogue at the Horvat Rimmon, the Horvat Midras ruin and other sites in the Coastal Plain and Jerusalem. Later he focused his activities on managing the extensive excavation project in Maresha and Bet Govrin, including the discovery, unearthing and study of the amphitheatre and the remains of the Roman town. He also researched the underground hideaways from the days of the Bar Kochba Revolt, carried out fieldwork in the Judaean Shephella and in Maresha, which became Israel's most comprehensive study on man-made caves.
From 1980 he is a member of the teaching staff at the Department of Land of Israel Studies and Archaeology at Bar-Ilan University.
Among his many publications: Archaeological survey and study of the area surrounding Jerusalem, a monograph and dozens of articles on excavations and research in Jerusalem's necropolis in the Hellenistic and Roman periods; the underground hideaway systems in Judea; the Maresha and Beth Guvrin excavations including their varied finds as well as articles on the subject of ancient technologies: roads, water reservoirs, olive oil and winepresses.