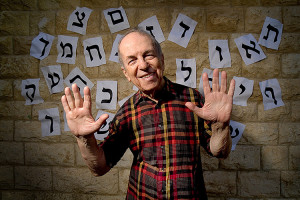 The Designer Zvi Narkis is awarded the EMET Prize for his creativity in the design of the Hebrew font, for the design of typefaces for the Hebrew alphabet over a period of fifty years, which made possible the transition from traditional Hebrew fonts to modern types, and for ingeniously combining ancient traditions with modern design concepts in creating the Hebrew type.
Zvi Narkis was born in Rumania in 1921. He immigrated to Palestine in 1944 and settled in Jerusalem, where he attended painting classes with Jakob Steinhardt and Mordechai Ardon. He went on to study graphic design at The New Bezalel Academy of Arts and Design. His evident skills allowed him to skip the first academic year, and a year later he was invited to work at the graphics department of the Keren Kayemet LeIsrael (the Jewish National Fund). Between 1950 and 1955 he was chief graphic designer of the IDF's training aids unit, and served as head of the manuals' design unit of the Israeli Air Force.
In 1955 he opened his own graphic design and typography studio, where for fifty years now he has been designing books, exhibitions, stamps, banknotes, coins, posters and emblems. Among his many projects he designed two Bible books for which he created a special typeface – the Horev Bible and the Hebrew University Bible – Jerusalem Crown. He designed the State of Israel's first tourist poster, the IDF pavilion at the First Decade Exhibition (1958), the Victory Medal (1967), the Peace Medal (1977) and some notes for the Bank of Israel.
He specialized in the design of types (fonts), and became the most prolific designer of Hebrew types in the 20th Century. He created Hebrew's most popular sans-serif book type, and over the years he designed fourteen sets of typefaces. The book types he created, bearing his name – Narkis, are most popular and are now commonly used in Israel. He created five of the ten most frequently used typefaces in Israel.
He also served as an academic advisor to the graphic design course at the Technion and as president of the Association of Israeli Designers.
His works were displayed in many publications in Israel and worldwide.