2008 EMET Prize Laureate – Culture and Arts: Music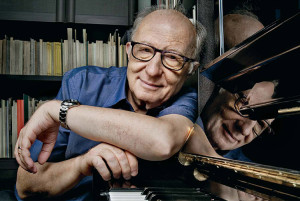 Prof. Yizhak Sadai is awarded the EMET Prize for his original and significant contribution to the fields of music phenomenology and music epistemology, and the most essential systemic principles of the tonal for theorizing and exemplifying music, from which derive new teaching and analytical methods. His publications are a significant contribution to the musical thinking of our time. All these have made him one of the greatest Israeli and international thinkers in the field of music.
Prof. Yizhak Sadai was born in the Bulgarian capital Sofia in 1935. From an early age he showed an aptitude for music and abstract, logical-mathematical thinking. He immigrated to Israel in 1949. In the early 1950s he studied music theory and composition with Alexander Boskowitch and Oedoen Partos at the Israel Conservatory and Academy of Music in Tel-Aviv. After completing his studies, he went on to study composition with renowned international composers. In 1960 he formed – with professors Dan Miron (literature), Yehoash Hirshberg (musicology) and Zeev Schuss (mathematics) the Renanim High School of Arts, where he taught and led the music division. That same year he started teaching at the Rubin Academy of Music in Jerusalem, and in 1966 he joined the faculty of the Tel-Aviv University, where he was head of the Academy of Music, head of the electroacoustic music studio which he founded, and head of the Department of Theory and Composition Studies.
He served as Vice President of the International Confederation of Electroacoustic Music and was an honorary member of the French Society for Music Analysis. His compositions were performed at international festivals of contemporary music, among them the Prague and Copenhagen Festivals. In his work, he was the first to study the pre-compositional elements of the tonal music and to formulate a systemic theory of the tonal music. His theory was tested on a generative level using a special computer program developed at the Weizmann Institute in the 1970s. In addition to composition and analysis, he worked on the phenomenology of music perception and music epistemology. Over the years, he published books and articles on these subjects and lectured at international conferences. He also taught at various music academies and universities, among them Paris, New York, Frankfurt and Budapest.