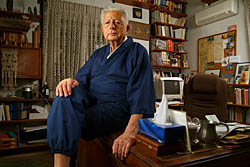 For his great contribution to the study of the religious phenomenon and its manifestation in various cultures, and for establishing the study of religions in Israel, as well as his public activities for the promotion of inter-religious dialogue and the encouragement of tolerance and understanding between different religious communities in Israel and abroad.
Professor Werblowsky was born in Frankfurt (Germany) in 1924. His family moved to Eretz Yisrael towards the end of the 1930's and he studied at several Yeshivas. (While at school in Jerusalem he lived with his grandfather, Rabbi Jonathan Benyamin Halevi Horowitz). In 1945 he completed his Bachelor's degree at the University of London. After the war he was in charge of an orphanage in Holland which prepared children that had survived the sho'ah for aliyah. He received his doctorate from the University of Geneva in 1951.
After teaching for five years in England he immigrated to Israel in 1956 and was among the founders of the Department of Comparative Religion at the Hebrew University in Jerusalem where he taught until his retirement in 1980. His research embraced the cultural, social, intellectual and experiential manifestations of the phenomenon "religion" in all their diversity, among them halakhah, Kabbalah, Jewish philosophy, Christian and Buddhist monasticism, the new religions of Japan, popular cults of China, and processes of modernization and secularization.
He was invited as a Visiting Professor to many universities around the world and was a Research Fellow at many Institutes of Advanced Study. For ten years he served as Secretary-General of the International Association for the History of Religions (IAHR) and also edited NUMEN, one of the leading journals in the field of Comparative Religion. He was active in various committees in UNESCO and Vice-President of the International Council for Philosophy and the Humanities (CIPSH) affiliated to the organization.
Alongside of his research, teaching and administrative duties (from 1965 to 1969 he served as Dean of the Faculty of Humanities at the Hebrew University of Jerusalem) he founded in 1958 the ISRAEL INTER-FAITH COMMITTEE which he led for many years. He also founded the Jerusalem Rainbow Club where Jewish and Christian intellectuals regularly meet for open and frank discussion. Thanks to his close contacts with religious personalities and leaders of religious organizations many gates were opened to the State of Israel and its voice could be widely heard.