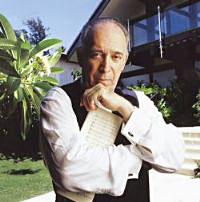 The Emet Prize is awarded to Prof. Noam Sheriff for being a multi-faceted musician: a composer, conductor, interpreter, lecturer and teacher who has left his personal and distinguished mark on his works. His abounding talent and impressive imagination in his works have earned him renown in Israel and around the world and he has thereby brought honor to Israel.
Composer and conductor Noam Sheriff was born in Tel Aviv in 1935. He received his musical education from Paul Ben-Haim and Ze'ev Friedlander. He learned conducting under Igor Markevitch in Salzburg and composition with Boris Blacher in Berlin. He also studied philosophy at the Hebrew University in Jerusalem.
His first work, Festival Prelude, was played by the Israel Philharmonic Orchestra under Leonard Bernstein at the opening of the Tel Aviv Performing Arts Center in 1957. His compositions have since been performed in Israel and around the world by such orchestras as the Berlin Philharmonic, the IPO, the Bavarian Radio SO, and the BBC Symphony Orchestra, and are published by the world renowned publishing house C.F.PETERS.
Among his most significant works are three vocal works which form a trilogy: Mechaye Hametim (Revival of the Dead), premiered by the IPO in Amsterdam, Sephardic Passion, premiered by the IPO in Toledo under Zubin Mehta and Placido Domingo and Psalms of Jerusalem, premiered by the Jerusalem Symphony Orchestra at the Jerusalem 3000 opening ceremonies. Sheriff regularly conducts performances of his works and other works of the international repertoire in Israel and abroad. Many of his students hold important positions as orchestra conductors throughout the world.
Between 1989 and 1995, Sheriff was the music director of the Israel Symphony Orchestra Rishon Letzion. He has been the music advisor to the Israel Festival and presented numerous music programs on the radio and television. Since 1990, Sheriff has been professor of conducting and composition at Tel-Aviv University's Rubin Academy of Music and its director for two years. In January 2002, he was appointed music director of the Israel Chamber Orchestra.