2007 EMET Prize Laureate – Culture & Arts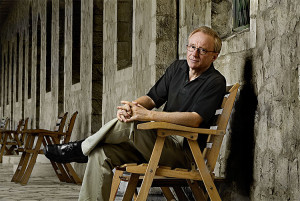 David Grossman is awarded the EMET Prize for his works, including short-story collections and novels, documentary and philosophical writings, a play and books for children and teenagers, all of which deal broadly, profoundly and without hesitation with the fundamental questions of human existence in general and the Jewish and Israeli existence in particular. With his complex, accurate and intimate insight his literary works shed light on the consciousness of his characters and on the mental processes they go through within a national-historical context. His writing stands out for its originality and its variety of artistic forms.
David Grossman was born in Jerusalem in 1954. His mother was born in Israel whereas his father emigrated from Poland in 1936. He participated in the Kol Israel radio programs for children and youth from an early age. He served in the IDF's Intelligence Corps for four years, and after his military service went back to work in Kol Israel, where he edited programs for adults and children and presented personal and documentary programs. For four years he presented the morning news broadcast. At the same time he studied at the Hebrew University, and is a graduate of the departments of Philosophy and History of the Theatre.
In 1979 his first story, Donkeys, was published in the literary journal "Siman Kriaa". Over the years he wrote for adults, children and teenagers. Among his works: novels, short stories, a play, documentary and non-fiction books as well as a collection of articles. His books were translated into 30 languages and won many international prizes. He regularly publishes political articles in the Israeli and international press. Among his books: Duel (won the Ze'ev Prize for Literature for Children and Youth in 1982), Jogger, Smile of the Lamb, See Under: Love, Itamar Walks on Walls, The Yellow Wind, Riki's Playgroup, The Book of Intimate Grammar, Sleeping on a Wire, The Zig-Zag Kid, Be My Knife, Someone to Run With (won the Sapir Prize in 2001 and later made into a film), Her Body Knows, Death as a Way of Life (a collection of 32 articles published over a decade prior to the publication of the book) a, new edition of the first part of the novel See Under: Love and Lion`s Honey.
David Grossman has been active for many years in attempts to start negotiations that would lead to peace between Israel and its neighbors. His son, Uri, was killed during the Second Lebanon War in August 2006.