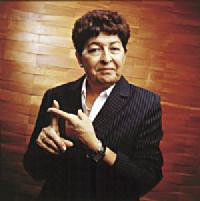 The Emet Prize is awarded to Prof. Varda Rotter for her trailblazing research into the understanding of the molecular and biochemical foundations of cancer and his leading-edge contribution to the discovery and characterization of the p53 protein and the gene associated with this protein.
Prof. Varda Rotter received a B.Sc. in microbiology and a M.Sc. in cellular biology from Bar-Ilan University. In 1976 she completed her doctoral studies in immunology at the Weizmann Institute of Science in Rehovot.
She joined the cancer research team at the Massachusetts Institute of Technology and upon her return to Israel continued her cancer research at the Weizmann Institute, as a senior researcher, as a professor, as Head of the Cellular Biology Department and as a member of the Department of Molecular Cell Biology. Today, Prof. Rotter is the Director of the Women's Health Research Center at the Weizmann Institute.
Over the years, Prof. Rotter has researched the processes involved in the development of cancerous tumors and the mechanisms the body activates to prevent the development of cancer. Her research has focused in particular on the p53 gene and she has made seminal contributions to the theory that loss of the gene's normal function is responsible for causing cancer.
In recent years, Prof. Rotter has focused on identifying processes that affect the resistance of tumors to anti-cancer drugs and has made exciting new findings that have great potential for improved cancer therapy.
Her research has earned her recognition and awards for her professional and scientific achievements and her accomplishments as a female researcher.
Prof. Rotter is a member of many professional associations, including the Israel Immunological Society, and international microbiology and cancer research organizations. In Israel, she is a member of the Executive Board of the Israeli Cancer Society and is a member of the scientific editorial staff of many professional periodicals and publications in Israel and around the world.