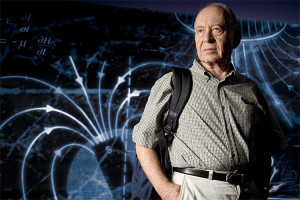 Professor Yoseph Imry is awarded the EMET Prize for his studies that have led to the formation and development of Mesoscopic Physics, for the discovery of important phenomena in the field with consequences for electronic devices used in nanotechnology and for his groundbreaking works in the study of physics in general and Condensed-Matter physics in particular.
Prof. Yoseph Imry was born in Tel Aviv in 1939. He obtained his MSc degree with special distinction from the Hebrew University in 1961, and his Ph.D degree from the Weizmann Institute in 1966, working at the Soreq Nuclear Research Center. He is the Max-Planck Professor of Quantum Physics at the Department of Condensed Matter Physics in the Weizmann Institute of Science, and had served there as the director of the Albert Einstein Minerva Center for Theoretical Physics and the Maurice and Gabriella Goldschleger Center for NanoPhysics. Following his postdoctoral period at Cornell University, he joined Tel Aviv University in 1969, and then moved on to the Weizmann Institute in 1986, where he initiated the Braun Submicron Center. He was a visiting professor in several universities and research centers, including Yale University, Brookhaven National Laboratory, the University of California, and the Wissenschaftskolleg in Berlin. He also held the Lorentz Chair at Leiden University and the Pascal Chair at the Ecole Normale Superieure in Paris. He was a Distinguished Science Advisor to the IBM Research Division and is currently a special advisor on Nanoscience to Ben-Gurion University and a member of the National Committee on Nanotechnology.
His research interests span much of Condensed-Matter and Statistical Physics, starting with phase transitions and scaling, superconductivity and Josephson Physics and random disordered systems, including electronic ones. Following this research he pioneered the new field of Mesoscopic Physics, which was the forerunner of much of the modern Nanoscience. His book Introduction to Mesoscopic Physics, published by Oxford University press, is a standard textbook in the field.
Yoseph Imry is a member of the European Academy of Arts and Sciences (Salzburg), the European Academy of Arts, Sciences and Humanities (Paris) and the Israel National Academy of Sciences. He has received several awards, among them the Weizmann, Humboldt, Rothschild and Israel Prizes. He has educated a number of students, many of whom serve as professors or research leaders.