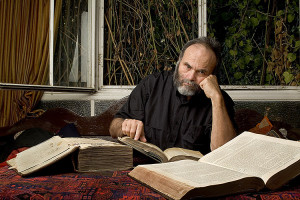 Professor Yehuda Liebes is awarded the EMET Prize for his outstanding contribution to the study of Jewish mysticism over the centuries as well as the study of Sabbateanism, for his original studies on Zohar literature which touch upon different disciplines and for his scientific work on a wide variety of themes within Jewish thought in different periods.
Professor Yehuda Liebes was born in Jerusalem in 1947 and has lived in the city all his life. Following his military service in the Paratroop Brigade he began his studies in Hebrew Language and Jewish Thought at the Hebrew University, and has been a member of the teaching staff at the Department of Jewish Thought since 1972. He offered a variety of courses, many of which dealt with aspects of Jewish myth and Kabbalah. Above all else he took upon himself the teaching of the Zohar.
In his research he elucidates Jewish myth from its biblical roots through its metamorphoses in Hellenistic Judaism, in Sefer Yetzirah, in Talmudic writings and in the Kabbalah from its beginning up to modern times. He wrote extensively on the Zohar, Lurianic Kabbalah, Sabbateanism, Braslav Hasidism and the Gaon of Vilna and his disciples. In these studies he frequently sought the autobiographical element of the author encoded in his teaching, as well as the Messianic element.
He studied the complex relationship between Judaism and other religions – the Hellenic religion ("paganism"), Christianity and Islam. He also wrote about Jewish religious poetry, and studied the theory of literary creation, based on the religious myth.His scientific work includes translation into Hebrew of religious poetry from the Greek, Latin and Arabic, and many of these translations were published with introductions and notes. Occasionally he expresses in writing his views on culture and current affairs.
Over the years he was invited to lecture in various American universities, and also taught Zohar courses at the University of Chicago. He was awarded the Bialik Prize and the Scholem Prize for his research.