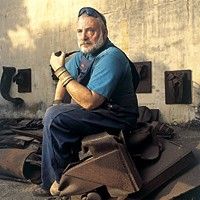 The EMET prize is awarded to sculptor Yaacov Dorchin for creating among the most prominent, unique and influential works in the field of sculpture. His work introduced Israeli art to the use of local materials and a form of processing that has become an Israeli canon and an accepted standard.
Yaakov Dorchin was born in Haifa in 1946. He began to paint in his early youth, mostly scenes of Mount Carmel. After his army service in the paratroops corps, he became a longshoreman and a fisherman along Israel's coasts, earning his living, too, by building roofs. At the same time he created drawings at universities, and in 1967 moved to Kibbutz Kfar Hachoresh.
In the kibbutz Dorchin set up a studio for painting and sculpture, employing a range of materials, assemblages, drawings and stabilizers, alongside his work in agriculture and industry.
Since 1969 his works have been exhibited in numerous galleries in Israel and abroad. Many of his works have appeared in group collections in Israel, the USA, Japan and Europe, and his sculptures and drawings are part of many public and private collections. His outdoor sculptures are on permanent display at Tel Aviv University, the Tel Aviv Museum, Tel-Hai, Haifa and kibbutzim.
Towards the 1980s, Dorchin began using iron as a main stay in his creative endeavor. He taught sculpture at Oranim Academic College, and since 1991 has taught at the Art department of Haifa University .