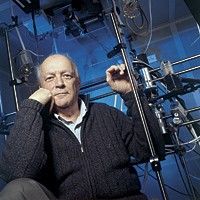 The EMET Prize is awarded to Prof. Moshe Abeles for his ground-breaking contribution to the study of the brain in many fields. His prolific research in the field of computational physiology, has brought about a significant change in the understanding of the brain, and is at the forefront of the field in Israel and throughout the world.
Moshe Abeles was born in Tel Aviv in 1936.After serving in the Nahal paratroops he began his studies at the Hebrew University of Jerusalem.He received his M.Sc. for his work on the influence of respiration on EEG waves under the direction of Professor J.L. Magnes, who also served as his advisor for his doctoral dissertation on Mechanisms of EEG Synchronization and De-synchronization.
After specializing in Biomedical Engineering at Johns Hopkins University, Moshe Abeles became a lecturer, senior lecturer, associate professor, and finally a full professor of Neurophysiology at the Hebrew University.He was also resident professor at universities in Switzerland and the US.Over the years Moshe Abeles has guided approximately 20 doctoral candidates in subjects related to neurophysiology.
Along with his academic work and research, Professor Abeles has served as Director of the Department of Physiology at the Hebrew University, Director of the National Institute for Psychobiology in Israel, Head of the Interdisciplinary Center for Neural Computation, Head of the Life Sciences Section of the Israel Science Foundation, and Director of the Gonda Brain Research Center at Bar Ilan University.
Professor Abeles' work over the years has won him numerous prizes, including the Baeck prize for three studies on the electroencephalogram mechanism, IAPI first prize for a study of computer-assisted analysis of neural activity, the Teva Founders Prize for outstanding studies in brain research, the Bar Ilan University Shamoon Chair. He was appointed honorary member of the Johns Hopkins Society of Scholars, and holds the Hebrew University of Jerusalem Ernest and Mona Spiegel Chair in Neurophysiology.