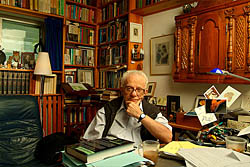 For his distinctive contribution to comparative historical sociology of civilizations and the study of modernization; for the central role he played in the development of Israeli sociology and of the sociology of Israel; for his deep commitment to teaching and research, and for the creation of a constructive dialogue between different theoretical schools, scientific disciplines, cultures and generations.
Prof. Eisenstadt was born in Warsaw, Poland in 1923. He arrived in Palestine at the age of 12. He started his studies at the Hebrew University of Jerusalem in 1940, where he attained his M.A. degree and later his Ph.D.
Since 1944 he worked as a teacher and in administrative positions at the Hebrew University. Since 1974 he is a Senior Research Fellow at the Van Leer Jerusalem Institute, and from 1970 to 2004 he was a Research Fellow at the Truman Institute at the Hebrew University. During this period he was President of the Israeli Sociological Association and Chairman of the Academic Council of Yad Ben-Zvi. Over the years he also served as Visiting Professor and Research Fellow at numerous universities around the world (Harvard, Michigan, Chicago, MIT, Stanford, Heidelberg, Erfurt, Hong Kong and Berlin). He is a Member of the Israeli Academy of Sciences, Honorary Foreign Member of the American Philosophical Society, Foreign Associate of the National Academy of Sciences in the U.S., Honorary Foreign Member at the Academy of Arts and Sciences; Honorary Foreign Research Fellow at the Institute of Sociology of the Chinese Academy of Social Sciences; Honorary Fellow of the London School of Economics and Political Sciences.
His scholarly analysis focuses on the comparative and historical study of institutions, processes and ideas in major world civilizations. A large share of his work was devoted to the analysis of Jewish civilization and of Israeli society.
Following his mentor Martin Buber, his research and writing also spans different disciplines in the humanities and social sciences and his work deals with worldwide problems of democracy, modernity and fundamentalism.
In over fifty years of research he has published many books and hundreds of articles, and edited very important books in his own field. His research work awarded him numerous prizes: The Israel Prize for Sociology (1973), Rothschild Prize for Social Sciences (1970), McIver Prize of the American Sociological Association (1966), International Balzan Prize (1988); European Amalfi Prize for Sociology and Social Sciences (2001) and the Humboldt Research Award (2002). He was awarded Honorary Doctorates by many Universities around the world.