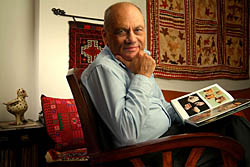 For his research and professional work, which have placed him in the forefront of Israeli archaeology; for disseminating archaeological knowledge through scientific editing and publishing; for the extensive excavations in which he has been involved as team member and director; and for his broad and in-depth knowledge of the Land of Israel and its material culture between the First and Second Temple periods.
Professor Ephraim Stern was born in Haifa in 1934, and graduated from the Hebrew Reali School there. In 1955 he began his studies in the Departments of Archaeology and History of the Jewish People at the Hebrew University of Jerusalem, and completed his Ph.D. with distinction in 1968. Upon receiving his M.A he began teaching in the newly-opened Department of Archaeology at Tel Aviv University, and was among the founders of its Institute of Archaeology. In 1971, Professor Yigal Yadin invited him to return to the Hebrew University to teach at the Institute of Archaeology, where Professor Stern worked until his retirement in 2002. During his many years of scholarly activity, he has specialized in the study of the material culture of three historical periods: the Late First Temple period (Assyrian Age), the Babylonian period and the Persian period. He has likewise extensively studied and written about the material culture of the Phoenicians.
Over a period of 46 years Professor Stern participated in numerous archaeological excavations, including the initial excavations at Masada and Hazor, Tel Beer Sheva, Tel Mor and En Gedi. He has also directed numerous excavations, including those at Gilam, Tel Kadesh and Tel Mevorakh. For twenty years he directed the excavations at Tel Dor, one of the major sites in Israel preserving important relics from the Israelite-Phoenician and Northern Sea Peoples' cultures.
Alongside his fieldwork, Professor Stern has engaged in extensive scientific editing. For many years he served as editor of the journal Qadmoniot, published by the Israel Exploration Society, and was co-editor of Cathedra, published by the Yad Ben-Zvi Institute. Professor Stern was elected editor-in-chief of the four-volume New Encyclopedia of Archaeological Excavations in the Holy Land and is currently editing the fifth volume of this work. He has served as member of editorial boards of numerous other important archaeological publications.