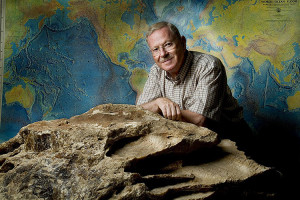 Professor Zvi Garfunkel is awarded the EMET Prize for his achievements in the various fields of geology, for his unique contribution to the study of the geology of the Land of Israel and the Middle East as well as the study of the Dead Sea Rift, for his multidisciplinary exploration of the Earth's activity, the deciphering of the processes that shaped the Mediterranean Basin and for his analysis of subjects relating to geodynamics, block rotations, plate motions and rift formation.
Professor Zvi Garfunkel was born in Kaunas (Kovna), Lithuania, in 1938. Having survived the Holocaust he immigrated toIsraelwith his parents in 1948.
In 1958 he began his studies in geology at the Hebrew University, where he obtained a PhD in 1970. After post-doctoral work in theUnited States he returned toIsrael and joined the academic staff of theInstituteofEarth Sciencesat the Hebrew University, and has since been a member of the Institute, where he became full professor in 1986. He also served as chairman of the Institute for four years, and he has been holding the R. Kravis Chair in geology since 1988.
His scientific work focused on geodynamic processes such as rifting and continental breakup, vertical motions, igneous processes and plate motions, especially their role in shaping the geology ofIsrael, the Middle East and theEastern Mediterraneanregion. He studied extensively the structure and history of theDead Seatransform (rift) as well as other rifts. He also studied strike slip faults, foreland basins, thermal processes in continents and the way in which plate motions are related to mass flow in the earth's interior. So far he published approximately 100 works. His main findings in the study of the geological history and the tectonic development of theLandofIsraeland its surroundings have a basic role for the modern tectonic study of theMiddle East .
Over the years he participated in the Sinai Research Project and acted as president of the Israel Geological Society. He has been a member of the academic board of the Jerusalem College of Engineering since 2000. He has also served as chairman, member and advisor of many scientific and professional committees.
His scientific work has won him the Peretz Grader and the Raphael Freund Awards – both bestowed by the Israel Geological Society.