2008 EMET Prize Laureate – Culture and Arts: Music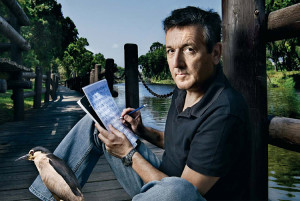 The composer, music arranger and musical director Yoni Rechter is awarded the EMET Prize for being one of the most prominent musicians emerging in the 1970s, for composing and arranging dozens of songs in a variety of styles, and for his significant contribution to Hebrew music through the poems he set to music, creating songs that were performed by Israel's greatest singers.
Yoni Rechter was born in 1951. He started taking music lessons at the age of eight. He started his military service in 1970 as keyboard player in the Israeli Artillery Corps Band, where his first songs were heard. Upon his release he joined the band Kaveret. At the same time he studied in the Tel-Aviv Academy of Music and founded the avant-garde duo Fourteen Octaves. He studied harmony, theory and counterpoint, piano (both in Israel and the United States) as well as composition. In 1976 he began working with the singer Arik Einstein, composing the melodies and writing arrangements for the album Love Has Many Faces ("Ha'Ahava Panim Rabot La"). At the same time he managed the Ester Ofarim tour and wrote music for the show and the album The Sixteenth Lamb. He also wrote music for the Inbal Dance Company and many other theatre shows. In 1979 his first solo album, Intending ("Hitkavnut"), was released. His second solo album, At Eye Level ("Be'Govah Ha'Einayim", with Eli Mohar, his writing-partner for many years) was released in 1986. In 1988 he created the albums The Songs of Avraham Chalfi and I Used to be a Child ("Hayiti Pa'am Yeled") together with Arik Einstein.
His songs, among them Your Forehead is Ornamented ("Atur Mitz'chech"), What the Does Do ("Ma Osot Ha'Ayalot"), The Prettiest Girl in the Kindergarten ("Hayalda Hachi Yafa Bagan"), Closed Kindergarten ("Gan Sagur") and A Merry Cosmic Prophetic Song ("Shir Nevui Cosmi Aliz") have become classics of the modern Hebrew song, along with dozens of other songs he composed for other performers.
His work won him various prizes: His song "Atur Mitz'chech" was voted Best Hebrew Song. He won the ACUM (Israeli Society of Composers, Authors and Publishers) Prize twice, in 1990 as Composer of the Year and in1992 for his Life Work, and in 2003 he was awarded the Holon Theatre Prize.