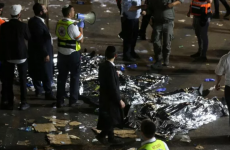 Prime Minister Netanyahu, Health Minister Edelstein, and Police Minister Amir Ohana should resign immediately! This was a catastrophe in the making- a clear and present danger if there ever was one.
On the Eve of the Mt. Meron calamity, I and many others were flabbergasted, and for this reason alone. Israel was one of the first states in the world to have emerged from the COVID pandemic (albeit after 6,000 people died). Without a doubt, PM Netanyahu deserves immense credit for acquiring sufficient doses of the Pfizer vaccine.
In light of the scores of Israeli casualties on Mt. Meron, Bibi must also bear responsibility for what happened there. And why is that? If only for the threat of another wave of a COVID comeback precipitated by the intense gathering of some 100,000 children, women, and men in very close proximity. The PM should have had the guts to tell his ultra-Orthodox political partners that it was far too dangerous to allow the huge multitude in such limited space at the burial site of Rabbi Shimon Bar Yochai on Mt. Merom. And why did he not do so? Simply because he depends on ultra-Orthodox political support in order to remain Prime Minister.
Moreover, Health Minister Yuli Edelstein and Police Minister Amir Ohana should have also protested against such a gigantic gathering in the days of COVID-19. Not to do so was a dereliction of their duties. Bear in mind that last year, the enormous annual ceremony on Mt. Meron was canceled due to COVID-19, and therefore, the ultra-Orthodox flocked in even greater numbers this year. There is the specter of scores of children, women, and men being crushed and trampled to death