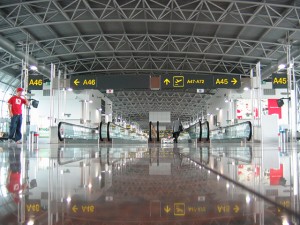 Following attacks in Belgium, Israeli security experts say Europeans can learn much from Israel's intelligence-driven methodologies.
In the wake of deadly terrorist attacks at Zaventem Airport and Maelbeek metro station in Brussels yesterday that killed 34 people and injured about 200 others, law-enforcement agencies in Europe's major cities are scrambling to beef up security at airports and transport hubs.
This latest horrific incident – and the revelation that the Islamist suicide bombers were known to police and yet still managed to access the airport's departure hall — has intensified speculation that European countries will get serious about adopting tough Israeli screening methodologies long considered the world's best practices.
Pini Schiff, a former security director at Israel's Ben Gurion Airport, told the Associated Press that the attacks in Brussels point to "a colossal failure" of Belgian security and that "the chances are very low" such an attack could have happened in Israel.
Col. (Res.) Eran Lerman of Bar-Ilan University's Begin-Sadat (BESA) Center for Strategic Studies agrees with that assessment. Although several European countries have started using Israeli security technologies, hardware alone isn't enough, Lerman tells ISRAEL21c.
"There is an impressive body of knowledge in Israel, which is recognized internationally, on how to counter this type of incident by creating multiple rings and envelopes of security around airports," says Lerman, former deputy chief of Israel's National Security Council and senior IDF Military Intelligence division director.
"However, the key to successful security has to be intelligence, in the broader sense of the word. For too many years, for very good reasons, Europeans have neglected the need for effective intelligence measures."
This is mainly due to wariness of any practices that could be seen as unfairly targeting Muslim travelers.
However, Lerman argues that profiling accomplishes the opposite result when it is applied intelligently.
"Intelligence is actually the alternative to painting all Muslims with the same brush and making racist generalizations," he says.

"People tend to confuse anti-Muslim attitudes with effective intelligence, but if you have effective penetrating capabilities to enable you to discern what the really bad guys are doing and to foil them, then you can actually have a normal relationship with minority groups that otherwise increasingly become the target of indiscriminate suspicion."
This article has been republished with permission by www.ISRAEL21c.org. Click here to continue reading.