2007 EMET Prize Laureate – Social Sciences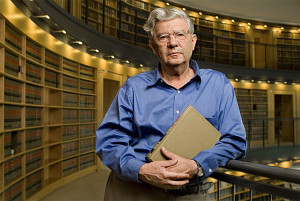 Prof. Aharon Barak is awarded the EMET Prize for his unique contribution to the study of law and its development, for strengthening the rule of law and basic human rights in Israel, and for his outstanding contribution to enhancing the status of the legal system and the Supreme Court in Israel and throughout the world.
Justice Aharon Barak was born in Kaunas, Lithuania in 1936. He was in the Kovno (Kaunas) Ghetto during the Holocaust, and was saved by Lithuanian farmers. He immigrated to Israel in 1947, and seven years later completed his studies at the Hebrew University High-School in Jerusalem.
In 1958 he completed his studies at the Faculty of Law of the Hebrew University. At the same time he also attended courses in Economics and International Relations. The subject of his doctoral thesis was vicarious liability in tort law, and in 1963 he received his PhD in Law with distinction. He published articles and at the same time started teaching at the Faculty of Law. In 1968 he was appointed Associate Professor at the Faculty of Law of the Hebrew University, holding the Chair of Commercial Law. Upon the invitation of the UN he participated for two years in the drawing up of an international treaty on bills of exchange. In 1972 he was appointed full professor at the Hebrew University and taught corporation and bill laws. Two years later he was appointed Dean of the Faculty of Law. In 1975 he was made Attorney General, and in 1978 he was appointed Justice at the Supreme Court. In conjunction with his work as a judge he continued to teach law, and also served as chairman of public committees debating legal matters, among them a committee set up to prepare a new corporate law and a committee on the new civil codification. In 1993 he was appointed Deputy President of the Supreme Court, and two years later he started his term as President of the Supreme Court, a position which he held for 11 years.
Over the years he was Visiting Professor at universities in Israel and abroad, among them Harvard, Yale and Michigan.