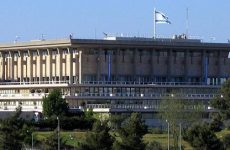 Here we go again. On March 2, for the third time in less than a year, Israelis will, again, go to their polling stations. This after incumbent PM Bibi Netanyahu and Benny Gantz of the Blue and White party, once again, failed to forge a 61-seat majority in the 120-member Knesset. This new ballot will cost over another billion dollars of taxpayers' shekels. After more weeks of politically haggling, 94 Knesset members voted in favor of a new ballot count to try and break the political logjam that has paralyzed government planning and spending. 
At present, each month, the various government industries receive 1/12th of their budget for last year. It means no new urgent government planning, such as vital additional funds for health care. But this time around, there's a new factor that could affect voters – Prime Minister Netanyahu has now been formally charged with bribery and fraud after Attorney General Avichai Mandelblit determined there were sufficient grounds for allowing Bibi into court to face the music. How this development will affect his Likud supporters remains to be seen. Many of them agree with Netanyahu that the state's legal authorities have framed him. 
There is a second dynamic in Israel's political "merry go round." Gideon Saar, a popular blue-eyed boy in the Likud, is challenging Netanyahu for party leadership. He once served in a Netanyahu cabinet but has fallen out with the Likud leader and become a force to be reckoned with. Very articulate and as clean as a whistle, Saar has slowly been gaining the support in the Likud, and he has decided that his time has come. 
He warns that after Netanyahu failed to form a new coalition following the two previous elections, the Prime Minister has absolutely no chance of forming a new Likud-lead government, in light of the current situation. The result would be the Likud winding up out of office. 
This is causing turmoil within the party. Nearly all the Likud cabinet ministers have come out in solid support of Netanyahu. They have perceived Netanyahu as their meal-ticket to office, and also being a successful leader. But Saar is not backing down, and banks on departing rank and file to realize that Netanyahu has reached the end of the road and should be replaced.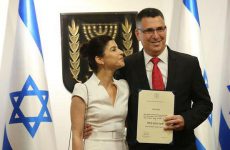 At present, Saar has gained enough support to pressure Netanyahu into agreeing to a Likud party internal election on December 26 that will determine the party leadership. There's no question that Saar is going for broke with a new general election in the near future. Saar has another attribute – his wive, Geula Even, is the most vivacious and talented TV personality in Israel. She is a definite asset to Saar, though she assiduously refrains from any political comments while on or off the air.
As for Saar's political network, he is a hawk and a firm supporter of the Land of Israel movement that opposes territorial concessions to the Palestinians in Judea and Samaria (the West Bank). He claims (as does Netanyahu) that Blue and White leader Benny Gantz will team up with the Left and submit to Palestinian and international pressure to give up Judea and Samaria. However, this claim is widely exaggerated as Gantz and two of his Blue and White sidekicks, Moshe Yaalon and Gabi Ashkenazi, are former IDF Chiefs of Staff. There is no way that they would agree to territorial concessions that jeopardize Israel's security.
No to a defense pact with the US
Meanwhile, former IDF Chief of Staff Gadi Eizenkot has shot down Bibi's stated goal of reaching a defense agreement with the US, Netanyahu has viewed this as a reason for why he should carry on as Prime Minister. However, Eizenkot has contended that the US is currently the most potent force in the Middle East and fully capable of coping with any threat, including Iran. Therefore, such a defense treaty with Washington is unnecessary and even counter-production. Some other prominent military experts also argue that it would tie Israel's hands in conducting an independent defense policy, both open and clandestine because Jerusalem might first have to seek a green light from Washington.
IsraCast conclusion
It is a fact that the Jewish state has always contended, albeit with American weaponry and subsequent financial aid, but it is ready, willing, and able to defend itself. Unlike many other nations, there are no American boots on Israeli ground, and no American airbases or naval vessels protect Israel, which receives far less in American financial and military aid. Professor Hillel Frisch, of the Begin-Sadaat Center for Strategic Studies at Bar Ilan University in Tel Aviv, has compiled and enlightening analysis. Consider this: Frisch quotes the findings of Dr. David Bine, a professor at the American University who has written a book on the subject. 
These are the facts: 
There are some 150,000 American troops stationed in foreign countries around the globe. This at a total cost of 85-100 billion dollars annually to the American taxpayers. 

Israel receives over 3.8 billion dollars of this expenditure, which is actually re-funneled back into the American economy from the supply of American aircraft and other American-made equipment. Compare this with the American outlay of not only US dollars but also of military personnel stationed in foreign countries to help protect them. 

The bottom line – not even one American soldier, sailor, or airman or woman protects the Jewish state!