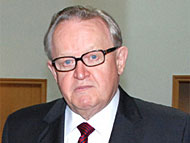 The former Finnish president, 2008 Nobel Peace Prize laureate, called U.S. President-elect Barack Obama to focus in the first year of his presidency on solving the Middle East conflict. Ahtisaari spoke Wednesday in Oslo, Norway as he received the 2008 prize for decades of global peace-making efforts.
Listen to 2008 Nobel Peace Prize laureate, Martti Ahtisaari
"The Israeli-Palestinian conflict has to be settled, and I think it is a discrase we have allowed this to continue and not really put our foot down and said to the parties that now is the time."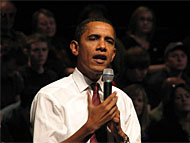 "I do hope that the new President of the United-States, who will be sworn in next month, will give high priority to the Middle-East conflict during his first year in the office. Peace, ladies and gentleman, is a question of will."
Martti Ahtisaari
Martti Oiva Kalevi Ahtisaari (born 23 June 1937) is a former President of Finland (1994–2000), 2008 Nobel Peace Prize winner and United Nations diplomat and mediator, noted for his international peace work.
Ahtisaari was a UN Special Envoy at the Kosovo status process negotiations, aimed at resolving a long-running dispute in Kosovo, which declared its independence from Serbia in 2008. In October 2008 he was awarded the Nobel Peace Prize "for his important efforts, on several continents and over more than three decades, to resolve international conflicts".