2007 EMET Prize Laureate – Culture & Arts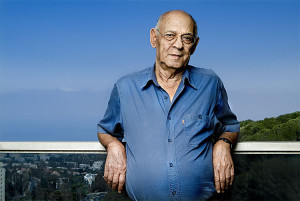 Sami Michael is awarded the EMET Prize for redefining the Israeli experience and broadening its boundaries with the inclusion of social environments that were previously excluded from it. By authentically representing the voice of the "other" and placing the immigrant, the woman or the Arab at the centre of his writing he initiated a significant process towards pluralism in Hebrew literature. His works stand out for their fascinating plots and create a realistic atmosphere that verges on the magical, making it difficult to tear oneself away from the intensity of the events described.
Sami Michael was born in Baghdad in 1926. As a high-school student he was active in the leftist movement in Iraq campaigning for human rights and at the same time he started his career as a journalist. Due to his political activity a warrant for his arrest was issued in 1948 and he was forced to flee to Iran. He came to Israel in 1949 and began working in the Arab press, becoming the first Jew in the editorial staff of the al-Itihad daily newspaper, where he was also a columnist. He left the Communist Party in 1955 and worked in the Israel Hydrology Authority for 25 years. He is a graduate of the Departments of Psychology and Arabic Literature at the Haifa University. As soon as he completed his studies he chose to write in Hebrew instead of Arabic.
His first novel All Men Are Equal, But Some Are More was published in 1974. He has written novels, short-stories, plays, books for teenagers and non-fiction, among them: Refuge, A Handful of Fog, Trumpet in the Wadi, Victoria, Unbounded Ideas, Water Kissing Water and Pigeons at Trafalgar Square. His books are translated into many languages and are taught both in Israel and abroad. They have also been adapted to the stage, cinema and television.
In his writing about the "other" – national and ethnic minorities, immigrants, oriental Jews, Arabs and women – he anticipated the multi-cultural debate in the Israeli literature of the 1990s. His focal point is the human being who is looked upon with compassion and fear for his or her liberty and honour. The longing for social justice and the concern for human rights in general is a central axis in his literary work as well as in his position as chairman of The Association for Civil Rights in Israel.
His writing won him many prizes, among them The Minister of Culture Prize for Writers, the President's Prize, The Brenner Prize, the Prime Minister's Prize for Hebrew Writers, the ACUM Prize, an IBBY Award (Germany), the AISI Prize (Italy). He was also awarded honorary doctorates by the Hebrew University, the Tel-Aviv University and the Ben-Gurion University in the Negev.