2007 EMET Prize Laureate – Life Sciences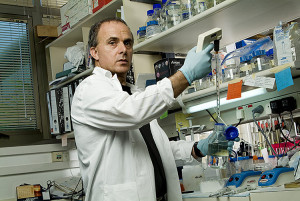 Prof. Yosef Yarden is awarded the EMET Prize for his original and significant contribution to unraveling the biochemical mechanism in the development and multiplication of the cancerous cell, and particularly the role of growth factor receptors and signal transmitters; for his groundbreaking research, which paved the way for a new approach in the development of drugs that have been put into use and saved the lives of many cancer patients; and for his leadership as an influential teacher and scholar in the fields of Life Sciences and Biotechnology in Israel.
Prof. Yosef Yarden was born in Israel in 1952. In 1979 he was awarded a BSc in biology and geology by the Hebrew University of Jerusalem, with distinction. He completed his doctorate at the Weizmann Institute of Science. He received his training in molecular biology at Genentech Inc. in San Francisco and in the Massachusetts Institute of Technology (MIT). In 1989 he set up his own research laboratory at the Weizmann Institute. He is currently the Dean of the Feinberg Graduate School at the Weizmann Institute, Chair of the National Committee on Biotechnology and Chair of the Research Committee of the Israel Cancer Association. He previously served as Vice President for Academic Affairs at the Weizmann Institute of Science, Dean of the Faculty of Biology and Director of the Moross Cancer Research Institute.
Prof. Yarden has dedicated his research to understanding the biological roles of hormone-like molecules, called growth-factors. He was involved in crucial discoveries that unraveled the roles of growth factors in cancer. He pioneered the isolation of several growth factors as well as their receptors, and his findings on the structure and function of growth factor receptors led to them being recognized as targets for cancer therapy. Thanks to his work several anti-cancer drugs were developed and have been proven effective.
His work won him many prizes, among them the Dudley Wright Research Award in Biomembranes, the Somech Sachs Prize in Chemistry, the Andre Lwoff Prize, the Lombroso Award for Cancer Research, the Michael Bruno of the Yad Hanadiv Fund, the Teva Founders' Prize and the MERIT Award of the U.S. National Cancer Institute. He is a member of the Israel Academy of Sciences and Humanities, the European Molecular Biology Organization and the Asia-Pacific International Molecular Biology Network.