2008 EMET Prize Laureate – Life Sciences: Genetics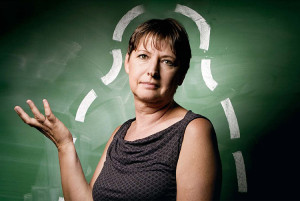 Prof. Batsheva Kerem is awarded the EMET Prize for her scientific contribution to understanding the genetic mechanisms of common hereditary diseases, for her vital collaboration in identifying the gene responsible for CF and for understanding the molecular basis of the disease, for her significant contribution to the study of fragile sites in the human genome and their involvement in various diseases and for her crucial role in public activities for the promotion of human genome research in Israel.
Prof. Batsheva Kerem was born in Tel-Aviv in 1955. Following her military service as an IDF officer she commenced her studies in biology at the Hebrew University. In 1979 she received her B.Sc. with distinction and then joined the direct doctoral program at the Department of Genetics. She was awarded her Ph.D. in 1986. Between 1987 and 1990 she was a post-doctoral fellow at the Department of Human Genetics, Hospital for Sick Children in Toronto, Canada, where she worked with a group that iden tified the gene causing CF.
Upon her return to Israel in 1990 she was appointed senior lecturer at the Department of Genetics at the Hebrew University. At the same time she established the Israel National Center for CF Genetic Research. Her observations made it possible to detect CF carriers and to prevent the disease by prenatal diagnosis. At the end of the 1990's she initiated studies aimed at understanding the mechanism underlying chromosome structure and function. Prof. Kerem is also respected for her studies on the involvement in cancer of frequent fragile sites.
She was made associate professor in 1998, and has been a full professor since 2003. Throughout the years she has served in many significant positions within the Hebrew University, such as Head of the Genetics Division. Nationally she served as Head of the National Genomic Center (since 2000) and member of various advisory committees. In 2007 she was appointed President of the Israeli Society of Genetics. She is also member of various European bodies dedicated to the study of the human genome.
Her work won her many prizes and awards, including the Julodan Prize for Contribution to Medicine (1993), the Teva Prize for Excellence in Human Genome Research (1993) and the Abisch-Frenkel Prize for Excellence in Life Sciences (2004).