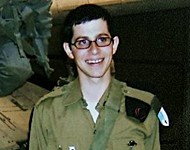 Hamas has released a recorded message from captured IDF soldier Corporal Gilad Shalit. The message is posted on the Web site of Hamas's military wing. Israeli officials are considering their reaction to the recording. IsraCast notes the proposal of Maj. Gen. (res) Uzzi Dayan who proposes that Israel should condition the Hamas release of Shalit as the first condition of any humanitarian supplies to the Gaza Strip.
Listen to the Recording of Gilad Shalit (Hebrew)

The Message:
'I am the soldier Gilad, son of Noam Shalit, who was captured by Izz el-Din al-Qassam. Mom and Dad, sister and brother, my friends in the IDF – I send you my love and I miss you all. It has been a whole year in prison, and still my health is deteriorating. I am in need of prolonged hospitalization.
I am sorry for the Israeli government's and IDF's lack of interest in me and their rejection of the demands of Izz el-Din al-Qassam [the Hamas armed wing]. It is clear that they must accept their demands if they want me to be released from prison, especially since I was part of a military operation under military instruction and not a drug dealer.
And just as I have parents, a mother and a father, the Palestinian prisoners also have mothers and fathers – and their children must be returned to them. I have great confidence in my government that they will focus more on my issue and accept the demands of my captors. Corporal Gilad Shalit.'
Capture
Early on Sunday morning, 25 June 2006, Shalit was abducted by Palestinian militants who attacked an Israeli army post on the Israeli side of the southern Gaza Strip border after having crossed through an underground tunnel near the Kerem Shalom border crossing. During the morning attack, two IDF soldiers were killed and three others wounded, aside from Shalit, who himself suffered a broken left hand and a light shoulder wound after his tank was hit with an RPG.
Shalit's captors issued a statement on Monday, 26 June 2006, offering information on Shalit if Israel agreed to release all female Palestinian prisoners and all Palestinian prisoners under the age of 18. The statement came from the Izz ad-Din al-Qassam Brigades (the military wing of the Palestinian governing party Hamas), the Popular Resistance Committees (which includes members of Fatah, Islamic Jihad, and Hamas), and a previously unknown group calling itself the Army of Islam.
David Essing