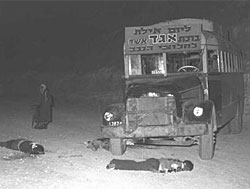 The Ma'ale Akrabim massacre was an attack on an Israeli civilian passenger bus, carried out the night of 16-17 March 1954. Eleven passengers were shot dead by the attackers who ambushed and boarded the bus. Four passengers survived, 2 of whom had been injured by the gunmen.
Scorpions Pass (Hebrew: Ma'ale 'Akrabim) is a narrow, winding grade on the old road connecting Eilat and Beersheba, just south of Makhtesh Katan, and roughly 60 miles south of Beersheba. The pass was on the primary route between Eilat and central Israel in 1954. The 1948 Arab-Israeli war ended with the signing of several armistice agreements between Israel and her neighboring Arab states, but border clashes began almost immediately after the signing agreements.
On the night of 16 March, a bus operated by the Egged Israel Transport Cooperative Society on an unscheduled journey carrying 14 passengers made its way from Eilat to Tel Aviv. As it was climbing up the steep grade, it was ambushed by gunmen who shot and killed the driver as well as passengers who tried to escape; they then proceeded to board the bus and shoot and pilfer from the remaining passengers. The male driver, eight male passengers and two female passengers were killed. The four survivors were a five-year-old girl, Miri Firstenberg, after one of the soldiers riding the bus defended her with his body, two Israeli soldiers and a woman.