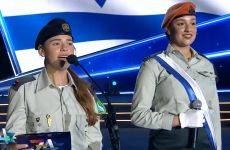 Israel has marked its 74th Independence Day by first paying tribute to the 24,000 Israelis who died defending the rebirth of this ancient state. On Memorial Day in Remembrance of the Fallen, the annual IDF march was held on Jerusalem's Mt Herzl. The country came to a virtual standstill, and millions of Israelis watched on TV as soldiers, sailors, and airmen paraded their troop colors. But it is not only a military display; it is also interspersed with singers and dancers to Israeli music. Even young servicewomen and servicemen are permitted to smile as they march around their comrades.
In the keynote speech, IDF Chief of Staff Gen. Aviv Kochavi gave a stirring address to the nation:
"Day and night, on the land, sea, and in the air, the Israel Defence Forces are always alert to protect the state no matter what the cost."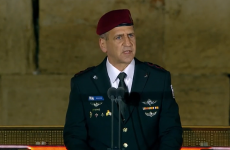 This has always been the case since the founding of the newborn state of Israel in 1948 and will also be so in the future. Kochavi dwelled on the IDF's goal of integrating all the various communities into one unified fighting force where only two factors count – motivation and personal skills. Time and again, the several thousand fortunate spectators rose to their feet in applause. I feel safe in saying that amid the country's hectic political situation, the right man is running the IDF. Gen. Kochavi is not only an excellent military commander, but he is also a superb orator – hmm, what does this auger for his future after he winds up his military career?
It is no wonder the country comes to a standstill for the moving ceremony. Most Israelis have also served in the IDF, and most families have a relative of one sort or the other now in uniform or doing reserve duty. Indeed the IDF is a melting pot for Israeli society. Young Jews, men and women, both Israeli-born or from abroad, enter the IDF induction center after their 18th birthday, accompanied by their proud parents and not a few worried mothers.
The recruits have already been thoroughly processed on their abilities and aptitudes and eventually assigned to their permanent post. And after the first few months of basic training, these happy-go-lucky teenagers return home more serious and physically hardened young men and women. This is not to say they are no longer fun-loving with a flair for life but do gain an added dimension of responsibility. The vast majority overcome it by also gaining many new friends.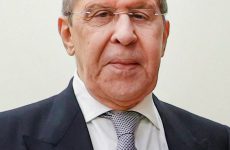 Now to some of the more mundane issues of the past seven days. The most disgusting is the allegation by Russian Foreign Minister Sergey Lavrov that the Jews themselves are responsible for antisemitism! In an interview with an Italian TV network, Lavrov charged, "I believe Adolf Hitler also had Jewish blood," in reference to the fact that Ukrainian Prime Minister Volodymyr Zelenskyy is Jewish.
"The fact that Zelenskyy is a Jew does not negate the Nazi elements in his country. I believe Adolf Hitler also had Jewish blood."
In Jerusalem, Israel's Foreign Minister Yair Lapid summoned the Russian ambassador to protest Lavrov's comments, calling them "unforgivable and outrageous."
This issue of Israel's position on Russia's war against Ukraine has also been noted by the French professor Bernard-Henri Lévy, who accused Israel of adopting a position of neutrality that is perhaps based on a lack of knowledge concerning the current situation. Even so, this does not justify Lévy's comment.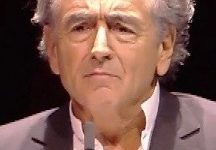 Now for the context – the prominent French Jewish philosopher first called Russian leader Putin a psychopath. Lévy was interviewed by the Israeli newspaper Yisrael Hayom, where he stated:
"No, I think neutrality is a mistake. Israel knows better than others how it feels when its very existence is denied. Israel has a moral obligation, almost metaphysical, to support the suffering of those threatened with extinction."
It has been reported that President Zelenskyy has requested that Israel supply Ukraine with its advanced Iron Dome missile defense system, which has proven to be highly successful in intercepting Hamas rockets launched from the Gaza Strip. The fact is that Israel's Prime Minister, Naftali Bennett, has acted as a mediator between Putin and Zelenskyy but without any apparent success to date. If Israel had supplied Iron Dome to Ukraine, this would have prevented any mediating attempt by Bennett.
However, there are far more cogent considerations involved in the relationship between Jerusalem and Moscow. Consider that Russia currently rules the roost in Syria, Israel's northern neighbor. Russian aircraft and armed forces are permanently stationed in Syria to protect the regime of President Bashar Assad. To the credit of former PM Bibi Netanyahu and current PM Naftali Bennett, a current agreement has been worked out between Jerusalem and Moscow, enabling Israeli aircraft flying over neighboring Lebanon to launch pinpoint attacks against Iranian missile supplies traveling from Syria to southern Lebanon to supply Hezbollah with weapons for attacking Israel.
No less a major consideration in the delicate relationship between Jerusalem and Moscow are the Russian naval ships permanently stationed just up the coast in the Syrian port of Latakia. I doubt very much if Prof. Bernard-Henri Lévy was aware of this critical strategic situation Israel faces with Russia.