Dr. Archana Jabhav: 'My Son's Recovery From Leukemia In Israel Was No Less Than a Miracle!'
'Hadassah's Bone Marrow Transplant Department Rescued Him From Critical Stage After Other Treatments Failed'
IsraCast Assessment: Successful Treatment Of Critical Leukemia Patient From India Illustrates High Level Of Israeli Medical Research, One Of Numerous Factors Justifying Israel's Acceptance Into OECD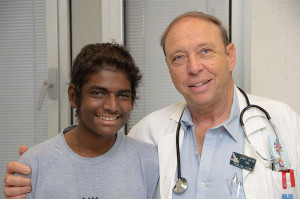 What is the connection between the acceptance of Israel into the esteemed OECD, the Organization for Economic Co-Operation & Development, and the miraculous recovery of a youngster from India from a critical stage of leukemia? Simply this – it illustrates why the prestigious OECD has now accepted the Jewish state as a deserving member for her record of achievement.
The acceptance of Israel into the OECD is a monumental achievement for the Jewish state. Only 31 other countries have been granted member status. Despite her need for massive defense investment in manpower and money, Israel has developed into becoming one of the most advanced nations in the world. With an annual GDP of over $I40 billion dollars and a GDP per capita of $30,000, Israel has reached the levels of South Korea and Spain. The city of Tel Aviv is also ranked globally among the most influential hi-tech cities.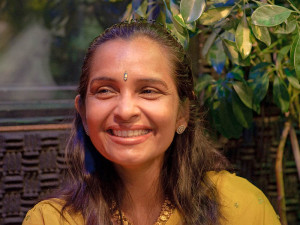 Israeli medical care and research is also highly developed and in some cases, second to none. Case in point- the successful treatment of sixteen year old Dhruv Jabhav from Mumbai, who arrived at Hadassah's Bone Marrow Transplant Department in Jerusalem in a critical state of luekemia. His mother, Dr. Archana Jabhav, a gynecologist, told IsraCast that all the previous treatments back home had caused serious infections and Dhruv was in need of an urgent Bone Marrow Transplantation. In fact, she and her husband feared for his life. After doctors in Mumbai recommended Hadassah as a leading centre where department head Prof. Reuven Or has earned an international reputation, Dhruv and his parents arrived in Jerusalem last January with the sixteen year old's condition deteriorating. Dr. Jabhab described their arrival in Israel as a culture shock, they had not met many Jews in India, nor is Judaism well known in that country. But at their first meeting with Prof. Or, she and her husband as well as Dhruv all agreed. She recalls: 'His physical presence and attitude created an aura of an angel around him. Later our initial instinct proved correct. Dhruv's recovery at Hadassah is no less than a miracle!'
After deciding on the strategy for Dhruv's treatment, Prof. Or was always available to help. Despite his busy schedule he always found time for Dhruv. Moreover, Dr. Jabhav was amazed by the concern of the whole staff from doctors and nurses on down , even to the cleaners; everyone seemed to take an interest and encouraged Dhruv to keep on cooperating with the treatment. And there were a lot of complications and times ' when we were shattered and I feared that Dhruv wasn't going to make it!' But with everyone's help Dhruv and his parents faced each crisis and came through their ordeal.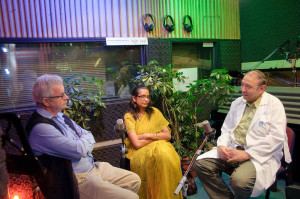 Since she was a doctor, Dr. Jabhav could follow the treatment and grew confident that Prof. Or and his staff would always find the best possible thing. The daily day and night assessments alerted the team to what needed to be done next.
So what is Dhruv's condition today? Dr. Jabhav smiled when she replied: 'With G-d's grace and a lot of blessings from Prof. Or, Dhruv has now recovered , he now feels well and has the energy of a normal sixteen year old, eager to get back to his school and friends and to do all the things that a sixteen year old likes to do. June 2nd is their big day, that's the date for their flight back to India. In Mumbai, Dhruv's doctor will be in touch with Prof. Or for any further consultation.