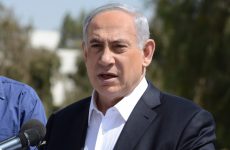 Just as Israel entered its third COVID-19 lockdown, an Israeli public opinion poll indicated that Prime Minister Netanyahu might very well lose the upcoming election on March 23. The Channel 12 News poll suggests that his loss of support in the election will bar him from forming a new coalition government. At present, only two of the Ultra-Orthodox religious parties appear as potential partners to team up again with Netanyahu.
Consider the poll's latest findings in the likely political blocs:

Netanyahu's Likud – 28

Shas, the Sepharadi religious party – 8

Aguda, the Ashkenazi religious party – 8
This would form a bloc of 44, far below the required 61-seat majority in the 120-member Knesset.
Then, on the far-Right:

Gideon Saar's new break-away party -19

Naftali Bennett's Right-wing party – 13

Avigdor Lieberman's (Russian) party – 7
All three of these far-Right parties split with Netanyahu and have since become his sharpest critics, so there is almost no chance they would agree to join another Netanyahu coalition.
That leaves a third Center-Left potential bloc.

Yair Lapid's Yesh Atid party – 16

Gantz's Blue and White – 5

Meretz – 5
The Israeli Arab party is projected to win the remaining 11 seats in the Knesset.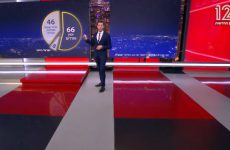 If these opinion poll results are more or less reliable – Netanyahu will find it almost impossible to cobble together the required 61-seat majority. If indeed the parties inform the state President that they will not join a Netanyahu coalition, Rivlin will call on another party leader, presumably in this case, Gideon Saar. He could build on Avigdor Lieberman and Naftali Bennett for a total of 39 – still far below the required 61. However, at this point, the two Ultra-Orthodox religious parties, seeing that Netanyahu has no possibility of forging a 61-seat majority, would then be open to a deal with Saar. He could grant them the same special privileges for their educational and religious budgets and IDF service deferrals, that Netanyahu has been granting them for years. 
To sum up this political imbroglio, Saar to count on 55 Knesset members, just six short of the required majority to form a new government. They could then come from among Yair Lapid's 16 projected Knesset members. And let's not forget the ten probably seats won by Blue and White and the Left-wing Meretz party. QED out of all this political mess, it would appear that Gideon Saar is now in a better position to form the next government.  
However, there is a big 'wild card' that cannot be tallied at present …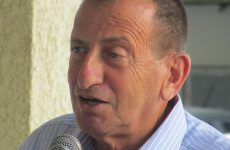 Tel Aviv's super-popular Mayor, Ron Huldai, is now testing the political waters. Since 1998, Huldai has won five consecutive municipal elections for mayor in Israel's biggest city. Huldai appears to have all the qualifications that Israeli voters go for. He was born on Kibbutz Hulda (from which his family name is derived). He served as a fighter pilot in the Israeli Air Force, rising to the rank of Brigadier-General. Now aged 69, Huldai has turned Tel Aviv into an international hi-tech city and could have what it takes to go all the way. There seems little doubt that if Huldai formed his own party, he would attract other popular Israeli figures to collaborate with him (rumor also has it that Huldai has been in contact with Gadi Eizenkot, a former IDF Chief of Staff, who's also widely respected by the Israeli public). There is no question that if Huldai throws his hat into the ring, he could capture voters in the Center and Left of Israeli politics. I refer to Yair Lapid's party as well as the many former supporters of Blue and White and the pitiful Labor party that has dropped off the face of the political map. 
Now, coming back to our analysis of the latest opinion poll, our objective is simply to illustrate how complicated Israel's political situation is today. Netanyahu is being hauled over the coals for the third 'lockdown,' which has economically crippled many of his Likud supporters. Meanwhile, he is trying to make the most of his success in acquiring sufficient doses of the Pfizer vaccine for the entire Israeli population.
In other news …
The suspected killer of Esther Horgan, the 52-year Israeli woman, has been captured by the Shabak Security Service. A Palestinian who lived in the West Bank has reportedly re-enacted how he bludgeoned her to death near her settlement home.

Tension continues to mount between Israel and Iran – an Iranian official warns that Tehran was fully aware that an Israeli submarine recently sailed underwater off the Iranian coast. Iran would retaliate when the time was right and would not tolerate Israeli vessels in the

Persian 

Gulf!

In neighboring Lebanon, Hezbollah leader Sheikh Nasrallah disclosed that, despite Israel's efforts, his Iranian-backed force has now acquired a far-greater arsenal of guided weapons inside Lebanon, with which to attack the Jewish state; also, when the time is right.