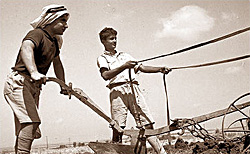 Sir Ellis Kadoorie, a Jewish philanthropist, died in the year 1922 and according to his will, two agricultural schools were founded in the land of Israel. One of them is the well-known Kadoorie Agricultural High School for the Jews in the Lower Galilee. IsraCast brings you a sequence of photos which were recently discovered, of the second agricultural school which was founded for the Arabs of Eretz Israel, in the city of Tulkarm.
Sir Ellis Kadoorie (1865-1922) was a Jewish philanthropist and member of the wealthy Baghdadian Family that had large business interests in the Far East. His family were originally Iraqi Jews from Baghdad who later migrated to Bombay, India in the mid-eighteenth century.
Ellis Kadoorie arrived in Shanghai from Bombay in 1880. Within a few years he had accumulated large sums of money and had gone into business on his own account, with companies in both Shanghai and Hong Kong. Sir Ellis was knighted in 1917 and founded several schools in China and Hong Kong. He died in the British colony of Hong Kong in the year 1922 and in his will, he bequeathed funding for two agricultural schools to be founded in Eretz Israel.
The first Kadoorie Agricultural High School was built in the Lower Galilee for the Jews. Among its graduates were some of Israel's greatest leaders such as Yitzhak Rabin, Yigal Alon and others.
A less-known fact is that another Kadoorie agricultural school, exactly similar to the first, was built in Tulkarm in order to improve and modernize agriculture for the Arabs of Eretz Israel.
A sequence of photos taken in the 1940's which were only recently discovered show the Kadoorie agricultural school for the Arabs in Tulkarm and the activities that took place there.