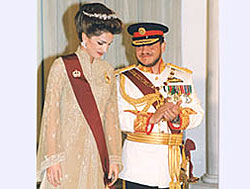 Abdullah II bin al-Hussein is the current King of the Hashemite Kingdom of Jordan. He ascended the throne on 7 February 1999 after the death of his father King Hussein. King Abdullah is a member of the Hashemite family and is reportedly a 43rd-generation direct descendant of Prophet Muhammad.
Born in Amman on January 30th, 1962, King Abdullah II is the eldest son of His Majesty the late King Hussein and Her Royal Highness Princess Muna Al Hussein. He began his primary education at the Islamic Educational College in Amman, and later attended St. Edmund's School in Surrey, England. For his secondary education, he attended Eaglebrook School and Deerfield Academy in the United States of America.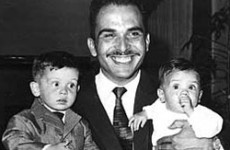 He entered the Royal Military Academy Sandhurst (U.K.) in 1980 and was commissioned as second Lieutenant in spring of 81. He then served as a Reconnaissance Troop Leader in the 13/18th Royal Hussars Regiment (British Army) in the U.K. (and West Germany).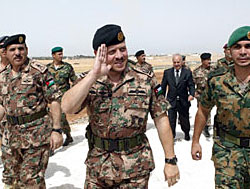 From 1985 to 1993 he served mainly in the Armoured Corps (3rd Division) in all related command appointments at platoon, company and as battalion second in command positions, until finally commanding the Second Armoured Battalion, 40th Armoured Brigade with the rank of lieutenant Colonel from January 1992 to January 1993. During this period he attended several military courses in the U.S. and the U.K. including Staff College Camberley (U.K.) 1990-1991. He also has several attachments to the Special Forces and a year as a tactics instructor with Jordan Army's Anti-Tank, Cobra Helicopter Wing.
The beginning of 1993 saw him as Deputy Commander of Jordanian Special Forces till he took full command in November 1993. He commanded these forces till October 1996, when he was instructed to re-organize this and other elite units into the Special Operations Command (SOCCOM). In 1998, as SOCCOM Commander, he was promoted to the rank of Major General and continued this command until the passing away of His Majesty King Hussein in February 1999.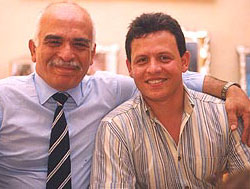 In addition to his career as an army officer, King Abdullah II served Jordan many times in the official capacity of Regent in the absence of the late King Hussein, and regularly traveled on official missions. He was proclaimed Crown Prince on the 24th of January 1999 by a Royal Decree. He had also assumed the position of Crown Prince at birth by a Royal Decree until April 1st, 1965.
Since his ascension to the throne, King Abdullah II has continued his late father's commitment to creating a strong and positive moderating role for Jordan within the Arab region and the world, and has worked towards the establishment of a just and lasting comprehensive solution to the Arab-Israeli conflict. King Abdullah II is committed to building on the late King's legacy to further institutionalize democratic and political pluralism in Jordan. He has exerted extensive effort to ensuring sustainable levels of economic growth and social development aimed at improving the standard of living of all Jordanians. He is also working towards modernizing Jordan's information technology and educational systems.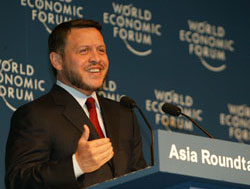 Under King Abdullah's reign, Jordan was admitted to the World Trade Organization, and ratified agreements for the establishment of a Free Trade Area with the United States of America, the European Union, the European Free Trade Association countries, and sixteen Arab countries. King Abdullah II has also been involved in the drive for national administrative reform, as well as governmental transparency and accountability. He has been working on the advancement of civil liberties making Jordan one of the most progressive countries in the Middle East. Also, he has been involved in enacting the necessary legislations that guarantee women a full role in the Kingdom's socio-economic and political life.
King Abdullah II married Queen Rania on June 10th, 1993. The Royal Couple have two sons, Prince Hussein, born on June 28th, 1994, and Prince Hashem, born on January 30th 2005, and two daughters, Princess Iman, born on September 27th, 1996, and Princess Salma, born on September 26th, 2000. The King has four brothers and six sisters.
King Abdullah II holds a number of decorations from various countries. He is a qualified frogman, pilot and a free-fall parachutist. His other interests include automobile racing, water sports, scuba diving and collecting ancient weapons and armaments.