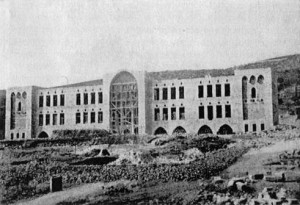 The Technion – Israel Institute of Technology is an institute of higher education in Haifa. Founded in 1924, the Technion began with an emphasis on the natural sciences, engineering, and architecture, but has since also became one of the top medical schools in the world.
The Technion was conceived in the early 1900s by the German-Jewish fund Ezrah, as a school of engineering and sciences, and the only higher learning institution, in then Ottoman Palestine – other than the Bezalel Academy of Art and Design in Jerusalem (founded 1907). The cornerstone was laid in 1912, but studies began only 12 years later, following an intense debate over the language of instruction. Ezrah deemed the then-developing Modern Hebrew inappropriate for scientific instruction, and demanded that German be used instead. However, in the result of World War I and the decline of Germany's influence as a European superpower, Hebrew was adopted.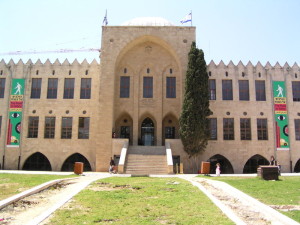 The Technion was opened in 1924, but the official opening ceremony took place in February 6th, 1925. The first class had 16 students, majoring in civil engineering and architecture, and 6 senior staff. During the 1930s, the Technion absorbed many Jewish scientists fleeing Nazi Germany and its neighboring countries. At the time the Technion was the only institution in the country offering engineering degrees until the opening of the school of engineering in the Ben-Gurion University in the early 1970s. The Faculty of Electrical Engineering, the largest Faculty at the Technion, has been ranked among the top fifteen electrical engineering departments in the world, while its engineering/technology and computer sciences faculties have been ranked among the top forty worldwide.
The Faculty of Industrial Engineering & Management at the Technion is the oldest such department in Israel. IE&M (Industrial Engineering & Management) was launched as a Technion academic Department in 1958. The Department grew under the visionary leadership of the late Professor Pinchas Naor, who served as its founding Dean. Naor's vision was to combine IE with management by creating a large, inherently multi-disciplinary unit covering a wide spectrum of activities, from applied engineering to mathematical modeling; from economics and behavioral sciences to operations research and statistics.
The Bruce and Ruth Rappaport Faculty of Medicine is one of three state sponsored medical schools in Israel. It was founded in 1969 and is active in basic science research and preclinical medical training in anatomy, biochemistry, biophysics, immunology, microbiology, physiology, pharmacology. Other facilities on the Faculty of Medicine campus include teaching laboratories, an exhaustive medical library, lecture halls and seminar rooms. Academic programs are offered at the Rappaport Faculty of Medicine leading to the Master of Science (M.S.), Doctor of Philosophy (Ph.D.), and Doctor of Medicine (M.D.) degrees.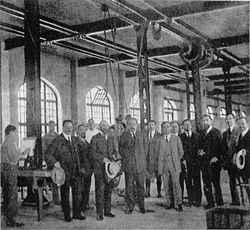 They have developed collaborative research and medical education programs with the world's leading institutions in medicine and bio-medical engineering including Johns Hopkins University and Mayo Medical School. Similarly, the Technion American Medical Students (TEAMS) program at the Rappaport Faculty of Medicine offers an American-styled, four-year, graduate medical training program geared towared American & Canadian students that wish to take advantage of the academic resources of the Technion, but plan to return to North America to practice medicine. The instruction and testing of TEAMS program is entirely in English.
Exceptional Academic Achievements
Professors Avram Hershko and Aaron Ciechanover of the Faculty of Medicine received the 2004 Nobel Prize in Chemistry for their discovery of the crucial role of ubiquitin in the process of protein breakdown in cells.
Professors Uri Sivan, Erez Braun and Yoav Eichen have used DNA strands to assemble a conductive wire 1,000 times thinner than a human hair.
Professor Dan Shechtman of the Materials Engineering Faculty received world class acclaim for his discovery of Quasiperiodic Crystals – a new class of materials.
The Technion is one of a handful of universities worldwide with a student program to design, build, and launch their own satellites. The Gurwin TechSat II microsatellite has successfully been in orbit since July 1998.
The Lempel/Ziv Algorithm, developed by Professor Abraham Lempel from Computer Science and Professor Jacob Ziv from Electrical Engineering, has become an international standard for data compression, and an IEEE Milestone.
Professor Karl Skorecki discovered genetic proof that all Jews belonging to the Cohen lineage are descendants of the biblical high priest Aaron Hacohen.
Professor Emeritus Dan Zaslavsky developed an alternative low-cost method for electricity production and water desalination based on cooling hot desert air in a 1,000-meter high, 500-meter diameter tower.
Professors Moussa Youdim and John Finberg from the Faculty of Medicine, together with Teva Pharmaceuticals, have developed rasagaline, a new anti-Parkinson's disease drug.
Professors Gedaliah Shelef and Yoram Zimmels from the Faculty of Civil and Environmental Engineering are developing coal ash-based artificial islands under joint Dutch and Israeli funding.
A team headed by Dr. Assaf Schuster developed 'Millipede', a software program using clusters of personal computers connected via a network to perform complex calculations.
Some more facts…

Technion graduates comprise the majority of Israeli-educated scientists and engineers, constituting over 70% of the country's founders and managers of high-tech industries. Due to the ingenuity of Technion alumni, Israel is now home to the greatest concentration of high-tech start up companies anywhere outside of the Silicon Valley.
High-tech industry now accounts for more than 54% of Israel's industrial exports, and over 26% of the country's exports. 135 out of every 10,000 workers in Israel are scientists and engineers, compared to the USA, in second place with 85 out of every 10,000 workers. Nine out of every 1,000 workers are engaged in R&D, nearly double the rate of the USA and Japan. 74% of managers in Israel's electronic industries hold Technion degrees.