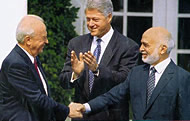 On October 26, 1994 Jordan and Israel signed a peace treaty at Wadi Araba, only the second such agreement, after the Israel-Egypt treaty of 1978, between Israel and its Arab neighbors.
The treaty, followed by more than one dozen subsequent sectoral agreements, established a solid framework for bilateral cooperation in the political, economic, and cultural fields.

The Jordan-Israel peace was the formalization of non-public arrangements between the countries that had been in place for many years. Regional politics was against Israel and prevented Jordan's King Hussein from openly revealing his more moderate policies. In particular, Jordan was dependent on Iraq for oil, had a large Palestinain Arab population hostile to Israel, and faced constant pressure from Syria, objecting to any rapprochement with Israel.
The elements preventing openly peaceful relations with Israel were finally offset by the Gulf War and, most importantly, by the Oslo peace process that made it acceptable for an Arab entity to be in peace negotiations with Israel.
The US made important contributions to Jordan's decision to go ahead with the treaty. Over $700 million of Jordan's debt to the US was written off and modern military hardware, like F-16 aircraft, were supplied.
Prime Minister Yitzhak Rabin and King Hussein had little difficulty completing the agreement since it was based on existing, relatively amicable relations between the countries and a warm personal regard. In July of 1994 they announced the "Washington Declaration", at an event hosted by President Clinton, essentially an intention to have a treaty. The treaty itself came a few months later.