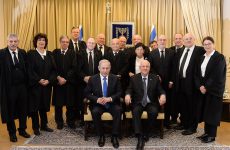 In a landmark decision, Israel's Supreme Court has approved the Conservative and Reform confirmation of Jewish converts. The historic ruling was carried by a vote of 8 to 1. Until now, only Orthodox conversion was recognized by the government and administration. The decision has sparked a political uproar amid the current election campaign, with the Orthodox religious parties declaring they will never serve in a coalition government that recognizes Reform and Conservative conversions. 
There can be no underestimating the impact the decision will have in the current election campaign. For years, PM Netanyahu and his Likud party have acquiesced in the Orthodox parties' religious demands. In effect, this has enabled Netanyahu to serve repeatedly as Prime Minister. However, coming in the middle of the election campaign, Netanyahu's Likud party, the religious parties, and other far Right-wing parties will not be able to alter the Supreme Court ruling before the upcoming election on March 23. In other words, this is a new political ballgame.
Meanwhile, Centrist and Left-wing leaders have praised the Supreme Court ruling calling it a historic and long-anticipated development for Israel's democracy. The fireworks (in more ways than one) have just begun!
Iranian miscalculation …?
Has Iran seriously miscalculated by rocketing an Israeli cargo vessel in the Gulf? The Israeli ship Helios Ray (registered in the Bahamas) was sailing peacefully in the Gulf off Iran's coast when suddenly two explosions rocked the vessel, smashing two holes in the side. Fortunately, no crew members were injured. The captain immediately ordered the ship to change course and head for safety and repairs in neighboring Dubai.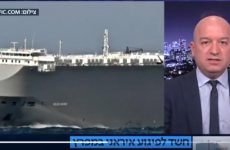 This sent alarm bells ringing – although there is an ongoing low-intensity conflict being waged between Iran and Israel, the rocket attack on the high seas was a definite and daring escalation. Iran had taken a step too far, and there will likely be consequences. Israeli explosive experts were dispatched to determine what happened. They concluded the ship had been hit by two rockets, obviously launched from the coast of Iran. 
PM Netanyahu, Defense Minister Benny Gantz, and the IDF Chief of Staff immediately conferred to study the intelligence information. Two days later, Israeli missiles hit Iranian militia forces stationed near Damascus. Syria said the attack was launched by IDF forces on the Golan Heights, less than 50 miles from their capital city. 
Moreover, the Iranian missile strike comes smack in the last lap of Israel's election campaign (voters cast their ballots on March 23). Opinion polls indicate that Netanyahu may be hardpressed to form a new coalition government. On the other hand, his two chief rivals, Yair Lapid and Gideon Saar, although trailing Bibi in the polls, could possibly forge a coalition government. Now, this escalation in tension lends Netanyahu the opportunity to display his strategic expertise and vast experience. Could it be that Tehran has tried to de-escalate by publicly denying any responsibility? Meanwhile, the IDF can be expected to carry on its airstrikes against the Iranian proxies located in Lebanon, Syria, and Iraq.
In the diplomatic arena, US President Joe Biden has apparently instructed American officials to seek a way back to the diplomatic deal with Iran that was canceled by Donald Trump.
One thing should be clear – Israelis may 'hoot and holler' over religious and domestic issues. However, when it comes to confronting the Iranian nuclear threat, there is no room for daylight. The public at large supports whatever it takes provided it is based on sound strategic actions and no political posturing to gain votes. How could it be otherwise when Iranian dictator, Ayatollah Khamenei, declares, "One nuclear missile on Tel Aviv will wipe out Israel."?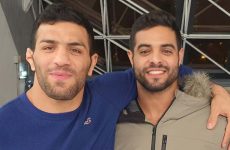 Nonetheless, there was also a more positive note when an Iranian judoka Saeid Mollaei, just visited Israel, where he was given a hero's welcome. Mollaei was condemned by the Iranian government when he agreed to compete with the Israeli champion for a World Judo title. Mollaei, who cannot go home again, now represents Mongolia. On arrival, the Iranian champ said he was delighted to visit, adding that there are many people back in Iran who have friendly feelings about the Jewish state. 
In any case, President Biden, like his predecessor Barack Obama and indeed Donald Trump, is also determined to downsize America's military presence in the region. The Sunni Arab states in the Gulf are aware of this emerging geostrategic reality, and this is one of the reasons why they are warming up to Israel. Who knows? Maybe the shifting sands of the Middle East will eventually lead to Israel's advantage, as evidenced by the closer ties between Jerusalem and its neighbors in the Gulf, eventually including Saudi Arabia.