Israeli scientists will apparently be the first in the world to start testing the vaccine. This experimental, cortisone-derived treatment (which has also been used to treat Nile Fever and a type of heart disease) is scheduled to begin on April 5 and will include eight critical corona patients who are now being treated in a Bnei Brak hospital. 
Outbreak amongst the ultra-orthodox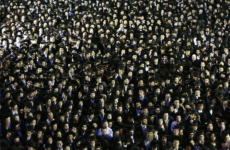 It is no coincidence that the experiment will be conducted in the Haredi ultra-orthodox town of Bnei Brak, where 38% of those tested turned out to be infected with the coronavirus. The neighborhood is vastly overcrowded, with worshipers praying in large numbers in local synagogues. In the Hebrew religion, at least ten men are required for communal praying. So high is the volume of corona incidences in this community that the government has been forced to declare a total lockdown with police and IDF soldiers patrolling the streets. 
At first, Rabbis in Bnei Brak did not instruct their followers to cooperate with the authorities, but now they have done so (too little too late?). The government has now defined Bnei Brak as a "limited town." This is another way of placing it under, what is in effect, a total lockdown. 
How to have Passover during a Pandemic
So far, close to 40 Israeli have died of coronavirus – nearly all were elderly who suffered from additional ailments. Another 7,000 have been diagnosed with corona. In fact, Prime Minister Netanyahu and IDF Chief of Staff Aviv Kochavi went into "isolation" from other people after being in contact with assistants who were later diagnosed with the virus.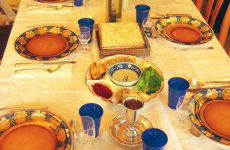 In any case, we are told that, compared to other countries, Israel is doing well. Older people tend not to leave home, whereas younger folks who do go outside at restricted to a 100-meter distance from home and must wear face masks during that time. Only those in vital jobs, such as doctors, nurses, grocery workers, police officers, etc. are authorized to go to work. 
But now, the Passover Seder (festive meal) is coming up, and it is the family highlight of the year. The roads and highways are bumper-to-bumper – you are either driving to the big family meal at some other relative's place or hosting the family meal. But now, Bibi has informed us that this will not be allowed – corona has spoken. Everybody must remain in his or her residence, and the police will be out in force, stopping and giving tickets to cars with more than two occupants. This should put a stop to the big family gatherings. But as the saying goes, "We passed over the Biblical Pharoah of Egypt," and now we will also pass over coronavirus.
Is Benny Gantz a villain or simply taking the advice of no less than President Abraham Lincoln?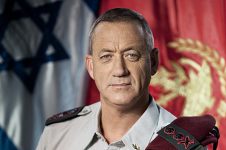 Benny Gantz was a vaunted Paratroop Commander, but he probably never took so much flack on the battlefield as he has now after his decision to negotiate a coalition government with Bibi Netanyahu. His former allies in the Blue and White party are now his bitter critics, as well as many of those who voted for him. In their eyes, he is a political "traitor." 
Let's go further into the question of promises made by politicians in changing circumstances. One of the most admirable political leaders of all time with President Abraham Lincoln. Is there any doubt about the moral stature of the leader who went through a horrific civil war to free the black slaves of America? So what did "Honest Abe" have to say about promises in the middle of the US civil war?
"Bad promises are better broken than kept if keeping the bad promise is adverse to the public interest."
In the book "Words Lincoln Lived By," Gene Griessman also quoted Lincoln:
"I shall try to correct errors when shown to be errors, and I shall adopt new ideas as fast as they appear to be true."
And there's more. Once a friend visited Lincoln while he was sitting in the barber's chair, and commented: "Mr. Lincoln if anybody had told me that in a crisis like this (the slavery issue) the people were going out to a little one-horse town to pick a one-horse lawyer for the president, I wouldn't have believed it."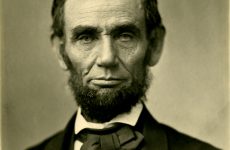 Lincoln's response was so vigorous that at first, his friend thought he was very angry. Whirling about in his chair, his face white with lather, the President swept the barber aside and answered: "Neither would I, but it was a time when a man with a policy would not have been faithful to the country. I have never had a policy; I have simply tried to do what seemed best each day as each day came." 
There's no question that Benny Gantz has yet to prove himself as a politician – he ran a lackluster, not to say pathetic, election campaign, appearing helpless in countering Bibi's dirty tricks. And yet, even now, political reporters are telling us that Bibi may be backtracking in the coalition negotiation.
Conclusions…
Here at IsraCast, my friend and partner Avi Yaffe and I still want to hope and believe that there is something more vital than one's views on political ethics, and whether you agree or not with Gantz. What is now at stake is the future of some 1 million Israeli men and women who have lost their jobs and go to sleep every night worried sick about what will become of them and their children. In light of this appalling situation, would not a national unity government (albeit with far fewer cabinet ministers) be far better than possibly going to yet another election? How else can we find and agree on a solution for this economic and social catastrophe?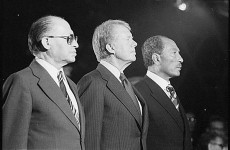 And when it comes to politicians changing positions when the circumstances change, let's take Israel's monumental peace treaty with Egypt. Did any voter before the election of 1977 fathom that Likud leader, the rock-solid "not an inch" Menachem Begin, would ever agree to give back the who Sinai, lock, stock, and barrel to Egypt?
And if Begin had declared before the election that he was determined to give back all of Sinai (every inch), in order to make peace with Egypt, would he have even been elected? We do not know what the future will bring, only time will tell. But the alternative of another election in the months ahead would be the worst of all.
This article was contributed to by David Essing, Avi Yafe, and Rivki Matan