It sounds incredible, and it is! For some five months now, the "startup nation" has failed to appoint a properly elected government. This is the result of the tie between the two major parties – Likud and the new Blue and White party. The last ballot was held on September 17, and both Likud's Bibi Netanyahu and Benny Gantz of Blue a White have been unable to cobble a 61-seat coalition in the 120-member Knesset. Blue and White wound up with 57 supporters, while the Likud tallied 55. It is Liberman's Russian immigrant party, which still holds the balance of power with crucial Knesset members, and he's playing hard to get.
To further muddy the waters, the dramatic pre-trial hearing of acting PM Netanyahu has now begun. Bibi faces three charges of fraud and breach of trust. The current hearing is chaired by the Attorney General, who will then decide whether there is sufficient evidence to haul Bibi into court. The first phase is expected to take several weeks, and even if Netanyahu is charged and faces a full-fledged trial, Israeli law entitles him to carry on as Prime Minister! However, if Likud and Blue and White fail to agree on a national unity government, the result will be a third crazy election within one year!
Meanwhile, rebellion may be brewing inside the Likud party. Gideon Saar, the main contender for the party leadership, has hinted that he is ready to run against Netanyahu in light of the current stalemate. To date, despite Netanyahu's legal headaches, the party leaders have stood firmly behind Bibi, who is very popular with the rank and file. However, the cost of a third election, paired with the fact that Blue and White will not join a government with Netanyahu because of his legal problems, is apparently raising questions inside the party. There is a growing feeling that many voters will penalize whichever party they feel is more to blame for the stalemate.
Enter Avigdor Liberman of the Russian immigrant's party. From the outset, IsaCast has been of the view that Liberman's eight Knesset members would determine who would be the next Prime Minister. Liberman has just met with Netanyahu, and there was no breakthrough. Moreover, Liberman has hinted that he may have a solution up his sleeve. Maybe he'll propose that he become acting Prime Minister until it's determined whether Netanyahu will face a full-blown trial. Sounds looney, yet, politicians on both sides are facing the rage of voters who are disgusted with the failure to form a new government.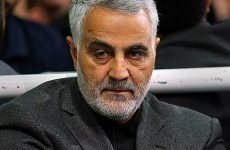 Iran's Gen. Qasem Soleimani is Israel's Osama Bin Laden
Soleimani is Iran's commander of the Revolutionary Guards, the powerful force that protects the Islamic regime and conducts an ongoing terror campaign abroad. Already at the top of Israel's most-wanted list, Soleimani has just made some new threats to guarantee that he will remain there. Quoted by the Guard's official website, Soleimani declared, "The sinister regime of Israel must be wiped off the map. This is no longer a dream but an achievable goal." There was nothing new in the 'wiping off the map' bit, but what caught the ear was Soleimani's further comment, "We have succeeded in obtaining the capability of destroying the Zionist regime." This particularly ominous statement follows Iran's recent rocket attack on Saudi Arabia's oil refineries. Soleimani is obviously feeling his oats in the enormous damage inflicted and the lack of a suitable response by Riyadh's allies.
Moreover, these genocidal threats by Iran's top political and military leaders totally violate the UN charter. But, as the Saudi attack should have proved to one and all, Tehran's Shiite Muslim dictators also have the neighboring Arab world, mainly Saudi Arabi and the Gulf states, in their sights. Iran already has a powerful foothold in Syria, Iraq, Lebanon, and Gaza. Yet, America's European partners, headed by French President Emmanuel Macron, are turning over backward, seeking a more favorable accord for Iran in its current confrontation with the US. It looks as if the Europeans are seeking another "peace for our time" deal that will last possibly until 2045, the expiration date of the Obama deal.